Words and Photos
By Bethany Augliere
On May 8, the Wild Dolphin Project boarded our research vessel Stenella to head over to our study area off Grand Bahama Island. We had Northeast winds and about 3 to 4 foot waves, which made for a slightly bumpy crossing.
Once we made it to the Bahamas, we cleared customs and Dr. Denise Herzing gave everyone onboard a briefing about the trip and how we work in the water with dolphins. We were joined by our regular crew, including a cook, captain, and first mate, as well as three interns, wildlife filmmaker Lawrence Curtis, and a passenger from Colorado. After the briefing, research assistant Cassie Volker showed everyone what to do for Dolphin Watch — a rotating one-hour shift to keep a look out for dolphins and also record data, like environmental conditions.
On our first full field day, we deployed some acoustic equipment, which Dr. Herzing will write about in a separate blog ("Can you hear me now"). But fortunately, we also had our first encounter of the season as we were deploying the equipment! It was Amanda with her new calf, and a couple juveniles including Vinca (a 2012 calf of Violet). Amanda is one of the individuals that moved to Bimini in 2013 but then returned 2 years later, along with three adult males. (To read more about that check out our scientific publication). They were mostly just surfing the waves and playing around, but they did a little bit of hunting for fish in the sand.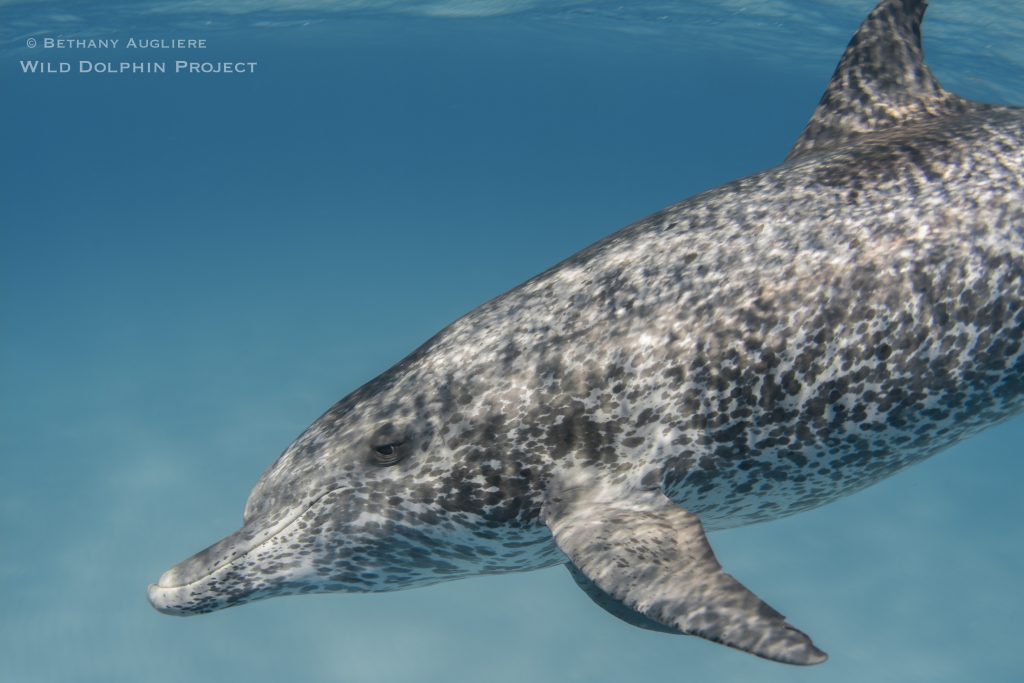 The next day, we headed down to our second study area off Bimini. Here, we had a total of 7 Atlantic spotted dolphin encounters, with a total of 53 individuals documented, and 3 bottlenose sightings. Everyone was working very hard! We saw a large group of traveling individuals, but also observed some great behavior, including juvenile courtship and play.
One way we know that these animals are habituated to our presence is the fact that they continue to behave in front of us such as feeding, mating, nursing and even aggression, rather than swimming away.  For instance, when we were passively observing the juvenile males attempting to mate with a female, at times they passed within inches of us.
As far as other updates, we've already documented a couple new pregnant females including Zion, Smokey, Nassau, and Duchess. Duchess has a new male calf, Draco. And Amanda and Regatta also have new male calves. Regatta's new calf is Rudder. Lastly, we were able to finally confirm the sex of Potion's older calf, Patronus. She's a female.
We couldn't have asked for a better first trip — great crew, lots of dolphins, and clear water. We can handle a few bumpy waves!
Stay tuned for an upcoming blog post from one of our interns, to hear about the trip from her perspective!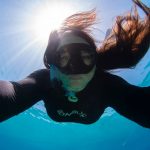 Bethany Augliere is a research associate with the Wild Dolphin Project and conservation photographer. To view more of her work visit her website at www.bethanyaugliere.com.