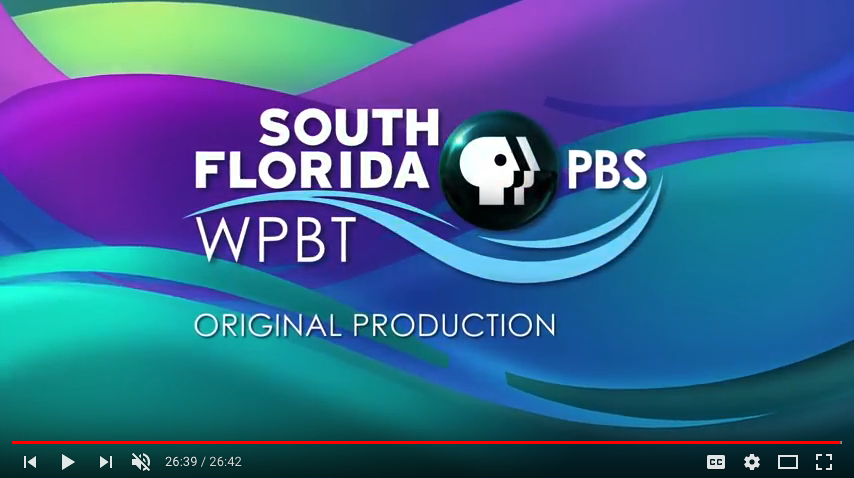 Dolphins: Breaking the Code
Dr. Denise Herzing has dedicated her career to studying a community of wild Atlantic spotted dolphins that live in the shallow, crystal clear waters of the Bahamas. Since 1985 she has researched the animals' social structure, behaviors and communication through non-invasive, in-water observation. This "hands-off" approach allows Herzing and her team to gain the trust of the animals and study their natural behaviors. Each field season, information is added to a large database which includes topside and underwater photographs to keep track of individuals and document their reproductive and health status as well as social associations.
During in-water dolphin encounters, experts record video and sound of the animals in an effort to decode dolphin communication. In addition to deciphering the dolphins' vocalizations, Herzing and collaborators are also exploring two-way communications between the researchers and the animals using a custom-made underwater acoustic interface called "CHAT."
Watch the entire episode on ChangingSeas.tv
Inside our quest to talk to dolphins
How is  The Wild Dolphin Project trying to "Crack the Code" of dolphin communication?  In this episode of "In The Deep", a Quartz series on the wonders of our oceans and the intrepid scientists seeking to understand them, scientists are trying to talk to dolphins. It's a decades-long quest to decode an alien culture, and it could open the door to communicating with thousands of species. December 2017
Learn about "Cracking the Code" of dolphin communication
Watch the YouTube video (7:50 mins)
Congratulations to "In The Deep" for winning the 2018 Edward R. Murrow Award for Feature Reporting in a Large Digital News Organization. Of the awards given to journalists, the Murrow Awards are among the most respected journalism awards in the world. "To be persuasive we must be believable; to be believable we must be credible; credible we must be truthful." -Edward Murrow
Google Talks
Scientists have struggled to understand dolphin vocalizations, but new computer tools to both track dolphins and decode their complex vocalizations are now emerging. Dr. Denise Herzing has been studying Atlantic spotted dolphins, Stenella frontalis, in the Bahamas for over three decades. Her video and acoustic database encompasses a myriad of complex vocalizations and dolphin behavior. Dr. Thad Starner works on mining this dataset and decoding dolphin sounds, and has created a wearable underwater computer, CHAT (Cetacean Hearing and Telemetry), to help establish a bridge for communication between humans and dolphins. Starner and Herzing will present this cutting-edge work and recent results, including perspectives on the challenges of studying this aquatic society, and decoding their communication signals using the latest technology. Dr. Denise Herzing has spent three decades researching and communicating with wild dolphins in their natural setting and on their own terms. Denise comes to Google to present this cutting-edge work and recent results, including perspectives on the challenges of studying this aquatic society, and decoding their communication signals using the latest technology.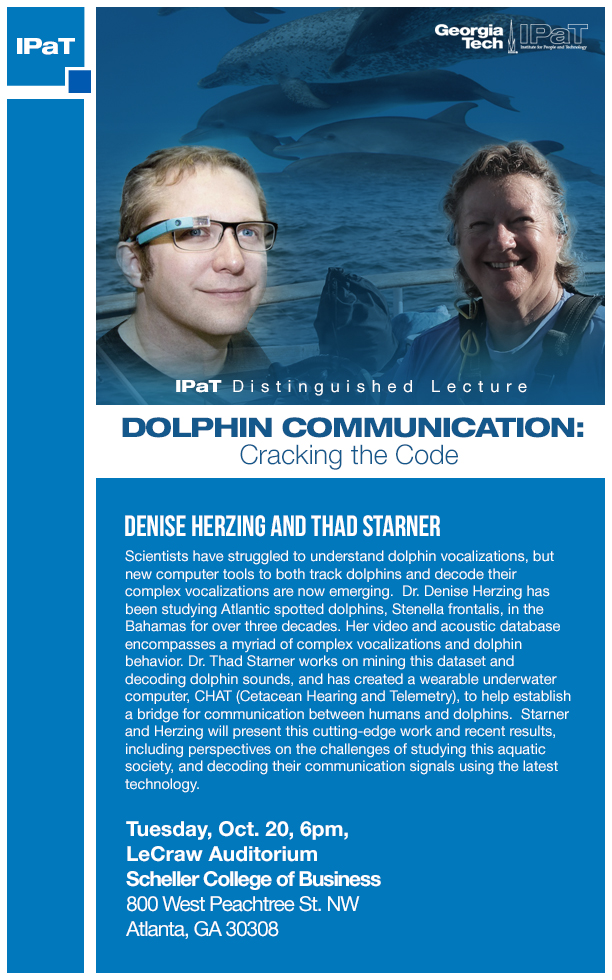 IPAT Distinguished Lecture
Dr. Herzing & Dr. Starner presented "Dolphin Communications: Cracking the Code" at the IPaT Distinguished Lecture Series held on October 20, 2015.
Learn more about the CHAT Research
National Geographic
Dive into the science of dolphin cognition with researchers studying how these amazing creatures make sense of their world.
Discover how researchers study dolphin intelligence
PRODUCERS: Brian Skerry and Spencer Millsap
VIDEOGRAPHY: Luis Lamar, Jeff Wildermuth, Trevor Frost, and Spencer Millsap
EDITOR: Spencer Millsap
RELEASED: April 2015
Summary of workshop in 2014 at SETI Institute on Non-Human Animal Communication
In this event, a group of interdisciplinary scientists will participate in a SETI colloquium to summarize and discuss a two-way workshop held to explore nonhuman communication research. Participants for this two-day workshop include scientists who currently work in one of three areas: animal communication, information theory, or astrobiology/intelligence.
The panel will explore and discuss the implications for SETI and astrobiology at this colloquium, including ideas about new tools and techniques that may provide insight into advanced communication systems and intelligence. This summary will be followed by a panel discussion and open to the public for questions.
TED Talk
The Language of Dolphins
Dr. Herzing speaks at the TED 2013 Conference.
Boston Museum Of Science
Contemplating Creatures
Series produced by the Boston Museum of Science, April 2013
SETI Institute
Clicks, whisles, and pulses: What can SETI learn from the parallel challenges of dolphin communication research?
Lecture in 2013 on dolphin communication at the SETI Institute
Ocean Giants: Deep Thinkers
Documentary exploring how similar the minds of whales and dolphins are to our own. Produced by Anuschka Schofield, with underwater cameraman Didier Noirot filming the Atlantic spotted dolphins. Aired on BBC.
Episode maybe purchased from BBC Store or iTunes.
ABC Good Morning America
"Dolphin Dairies", a groundbreaking glimpse into how dolphins communicate and live.
PBS LearningMedia: A Dolphin's Return
Explore.org: wild dolphins
Denise Herzing, the Jane Goodall of the sea, dedicates her life to researching wild spotted dolphins in the Bahamas. Go underwater and fall in love with these sacred creatures. Produced by The Annenberg Foundation & Explore.org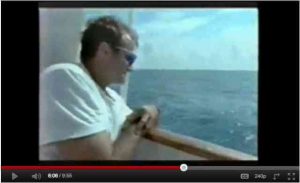 In The Wild With Robin Williams
It is with great sadness that we say goodbye to Robin Williams. The Wild Dolphin Project hosted Robin in 1994 as he was traveling around the world learning about dolphins. He was smart, funny, and kind. Part dolphin himself Robin came on board eager to learn about the world of wild dolphins and he even rivaled the dolphins in their abilities to make sounds. He was a great spokesperson for animals and a creative energy on the planet. We will miss him. ~Dr. Denise Herzing
More
Diving with Dolphins – 2007, BBC, Hosted by Tanja Streeter, championship free-diver
Tamzin Outhwaite Goes Wild With Dolphins – 2002, BBC, Hosted by Tamzin Outwaite
Talking with Aliens – 1999. Pioneer Productions. Narrated by Robin Ellis. Written and directed by Richard Burke-Ward. Channel Four Television and TLC.
Touched by a Dolphin & Tribes of Sea – 1998. ABC-Kane Production. Domestic and international versions
Dolphin Diaries — 1996. From the BBC Series Natural World. Narrated by Sir David Attenborough. Aired on U.S. Public Television. Not available for sale, but frequently re-run on local PBS stations.
Dolphins, With Robin Williams — 1995. From the In the Wild Series. Available from PBS, 1-877-PBS-SHOP/1-877-727-7467
Dolphin Dreaming — 1994. From the Natural Neighbors series. Produced by Mark Jacobs.
World of Wonder — 1994. (segment) Hosted by astronaut Mae Jemison. Discovery Channel.
Swimming with Denise — 1993. NHK of Japan, Directed by Seido Hino.
Dolphins: Close Encounters — 1992. From the Nature series on U.S. public television. Hosted by George Page. A Wolfgang Bayer Production in association with Thirteen/WNET and Granada Television, Ltd.
Trials of Life — 1991. BBC Series on Wildlife.