Trip 7 Blog – by Alyson Myers PhD Candidate, Florida Atlantic University
We had a mild crossing to West End, Grand Bahama and anchored at Sandy Cay for the night. Early the next day we ran into a lively group of bottlenose dolphins crater feeding. A large nurse shark also cruised by, leading to one passenger pondering the strange shape of that "dolphin." It was a great encounter with clear blue waters and exciting behavior. The snorkel at the Sugar Wreck was also a fun experience, lots of rays and beautiful reef fish.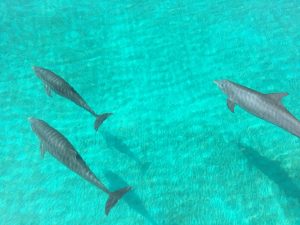 The next day we spent crossing the Providence Channel to Bimini on Great Bahama Bank. On the crossing Captain Brad and First Mate, RJ, caught a large Wahoo! Wahoo, dinner! Once we got to Bimini, we ran into a group of 15-20 Spotted dolphins. We saw many familiar faces; Bishu, Piglet, Caroh, Sidewalk, Bijyo, Bonito, and Noldus, just to name a few! The juveniles were playful, picking up sargassum and dropping it, swooping in at the last second to steal it back from one another. We also had some tail slaps at the bow demanding another bowride, their favorite!
The next morning we had a long bottlenose dolphin encounter. We observed great crater feeding behavior in glassy calm waters. After this, we went searching for more dolphins and came across a huge Manta Ray! You would think the picture was taken http://premier-pharmacy.com/product/zithromax/ from underwater, but it was taken from the surface That's how calm the waters were!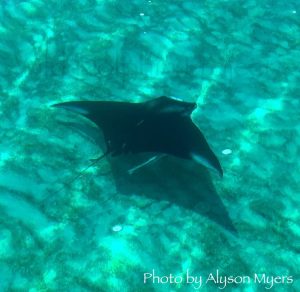 The following day we found 3 curious female juvenile spotted dolphins. There were also a lot of jellyfish and the moon jellyfish photo-bombed a few of our ID shots of the dolphins! We also ran into a larger group of dolphins later in the day but we had our encounter cut short due to a feisty squall with lots of lightning and thunder.
Our glassy calm days were gone the next morning. It wasn't terribly rough but it was no smooth sailing either. We had a busy day nonetheless with 3 encounters, including a small group in the morning and a very large group of 35 to 40 dolphins later in the afternoon. We got to observe some play fighting among the juveniles and lots of rowdy calves zipping about.
On our last day of the trip, it was still rather rough and we had to forgo our usual end of trip snorkel. We did, however, run into a group of mottled and speckled spotted dolphins that came in for a bow ride. We observed, again, more play fighting behavior. It was a nice send off, despite the rough weather, before we headed home for Florida. Such is fieldwork in the summer hurricane season!!
Alyson Myers PhD Candidate, Florida Atlantic University