Oct 21 and 22, 2016 (Video available here)
On October 6th Hurricane Matthew went through the northern Bahamas as a Category 4 storm (winds 145 mph). As I huddled with friends in a shuttered house in Palm Beach county, the storm was raging through Nassau, Andros Island, and finally making a direct hit on West End, Grand Bahama Island. In 2004 Hurricane Frances, a Category 2 storm, took a direct path over our study site 40 miles offshore Grand Bahama Island. During that storm, we lost 30% of our spotted dolphins and bottlenose dolphins.
As I watched from Florida, I thought about the dolphins on Little Bahama Bank. As West End got the NE side of the eye, the worst part, the dolphins also had seriously rough seas. Would we lose more dolphins? Did they know to go elsewhere? If so, where do you go when a 900 mile wide storm approaches? These are all the unanswered questions we have, and might never know.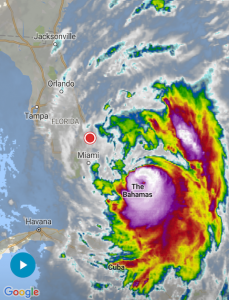 It was clear as Hurricane Matthew moved north, that West End got the worst of the worst. A small town of about 2000 people, their houses were directly in the path of the storm surge, estimated at 10-15 feet. The Bahamas is low lying ground with no elevation to speak of.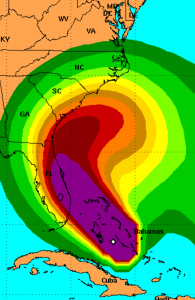 As soon as things settled down in Florida, planes starting flying over to West End to deliver much needed food and water. We decided that we should try to get over there in our boat and deliver supplies too, but the seas decided to stay large and dangerous for the next two weeks. As we waited for a weather window, a few of our WDP donors stepped up with donations to help us buy much needed supplies. Our customs officer in West End had told us they really needed generators, as there was no power, and likely another 3 months before power was restored. So we ordered and bought 14 large generators, extensions cords, gas cans, food, water, pet food, and gathered clothing and other donations.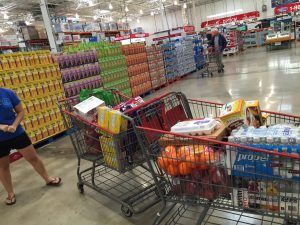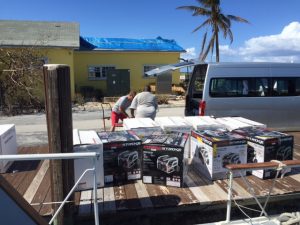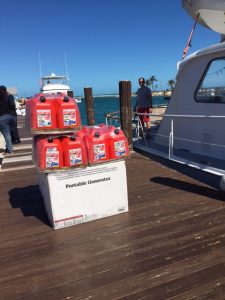 Finally on October 21 the seas came down and at 6 am we left the dock, loaded to the brim with large 250 pound boxes of generators. These seas were still around 8 feet in the Gulf Stream, but R/V Stenella, and her crew, are seasoned travelers. We arrived at the dock and began, with the help of the locals, unloading our supplies. As I chatted with Rochelle, the head of Social Services in charge of distributing much needed supplies, she mentioned that the first place to receive one of our generators was the West End Medical Clinic! Both humbled and shocked, we couldn't believe that even the medical clinic had no power, so even this small load was making a difference in a big way. By the end of the day other boats had arrived, including a large yacht, and supplies were now filling the marina, as were the cars and local http://www.xanaxlowprice.com people hoping to receive much needed help.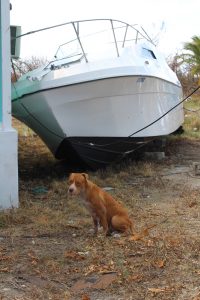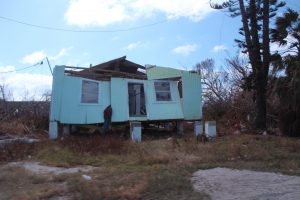 We hopped in a local taxi and Kale, our driver, took us through town to look at the damage. Power lines and poles down everywhere, boats smashed into houses, houses completely gutted, houses pushed off their stilts from the storm surge and pushed inland. The gas station was gone, the bakery was gone, the temporary medical clinic was gone, trees were down, the hotel was gone, the groceries stores all gone. Kale then took us to his own house, which still had a roof and some walls. As we walked through his daughters room, his mothers room, his living room, the high water mark reached our shoulders with sea grass still stuck to the walls from the storm surge that had ripped through their house.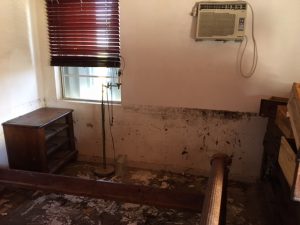 The people of West End are amazing and kind, and we watched as neighbor helped neighbor, an ice truck drove through town distributing ice, and the local churches (left standing mostly) housed and fed the locals. Stray dogs ran through the streets (we brought dog and cat food in our boat supplies too), and children played in the streets.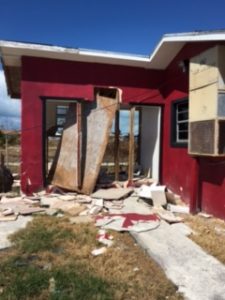 With debris piled everywhere and folks without homes we started making our list of more supplies to bring…power tools, cooking stoves, more generators, kids toys, pet food….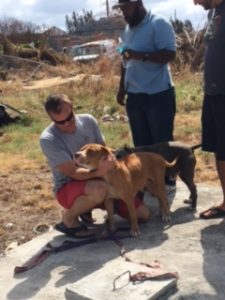 We were also curious how the dolphins faired. Although we knew we had a small weather window to get to the Bahamas and back, we decided to go to the south side of the island to look. Still high seas and rough, we found a small group of bottlenose dolphins, but ran back to port for the night to take shelter. Saturday morning we left early to go up north to the White Sand Ridge where we often work. With small craft advisory still in effect, we trucked north to find the White Sand Ridge totally churned up with sand, so milky that we couldn't even see through the water. And although we saw some of the same dolphins as the afternoon before, we did not see any of our resident spotted dolphins. We hope to spend more time looking for them next trip over to see how they faired.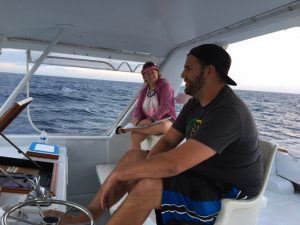 Our crew felt a bit overwhelmed and certainly humbled by seeing this destruction first hand. And even though we delivered a full boat load of supplies, there is so much that is still needed. Much thanks to all our donors: Northpoint Parkway Corporate Center, Dimeo Properties, Inc. NAI Merin Hunter Codman, Inc., Jordan Paul, Mary Macchia, Staples, Alpha Media, and Anonymous Donors.
Anyone interested in still helping, we are taking monetary donations to purchase supplies as well as supplies which can be dropped off at the office in Jupiter, Florida or delivered directly to the boat, please coordinate with Melissa by calling (561) 575-5660 or emailing info@wilddolphinproject.org.
Dr. Denise Herzing, Research Director, WDP
This video and more can be found on our youtube channel.