The Wild Dolphin Project affords young scientists the opportunity to experience, first hand, research out in the field. For this trip, we had 7 interns out working with us on the Stenella. They came from all over: Canada, Florida, Tennessee, and Illinois. The intern spots are also supported by the Donald Slavik Family Foundation to train young scientists.
The trip was off to a great start. Not only did we see Pilot Whales during the crossing to the Bahamas, but the interns formed friendships right from the beginning and were a positive group ready and eager to learn. This is a good sign since our 62 ft power catamaran would be everyone's new living quarters for the next 10 days (not many places to hide!).
We did have some rough weather and choppy seas for the first few days of the trip. However, on Day 5 we were rewarded with a great encounter of eight bottlenose dolphins crater feeding. There is a clip below of an individual bottlenose crater feeding. At first you will see the dolphin scan the bottom in search of food and then later dig into the sand with its rostrum and snag a fish. Bottlenose dolphins can be seen with their heads in the sand all the way up to their pectoral fins! During this encounter there was also a mom with her young male calf. The male calf was very curious about us and made sure that we knew he was a male, so very "bottlenose" of him! He was also observing his mom crater feed intently in the echelon position. Calves learn a lot by observing those around them, and much of this information comes from observing their mother.
Video: 2016 Trip #2 feeding behavior
We also had a great encounter with some very curious and playful Atlantic spotted dolphins. During this encounter, the interns had the opportunity to observe Venus and Naia (2 fused females) along with Flotsam and Hoot (2 speckled males). This group was very curious, especially Venus. Venus was frequently swimming in between and all around the group, diving down to the bottom to play with some sargassum on the sea floor, and was even observed rolling on the bottom.
In the end, we had to cut our trip a day short due to weather, but the interns were still positive. They commented that the bad weather at both the beginning and the end of the trip taught them patience and that this is what real research is, rolling with the punches and pushing through!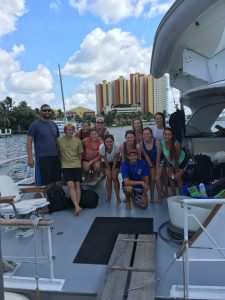 Stay tuned for the next blog from our 2016 field research season!
-Cassie Volker
Stay tuned for next year's field research season. The schedule is released to members first as a perk of maintaining a membership with WDP. Then 4-6 weeks later (usually by the end of January) the opportunity to sign up is made available to the general public.