Trip 6 (July 12th – 20th)
It's a BOY? GIRL? Well it's a Fourth Generation!!
An exciting start to Trip 6, we were able to observe a small pod of pantropical spotted dolphins, Stenella attenuata, in the Gulf Stream, on our way over to the Bahamas. Although this species has spots like our study dolphins, Atlantic spotted dolphins, Stenella frontalis, the pantropical spotted dolphin is more closely related to other oceanic dolphins like the spinner dolphin, Stenella longirostris. Both species are tropical dolphins, live in large schools, and spend most of their time in the deep ocean. We know little about the natural behavior of pantropical spotted dolphins, due to their largely oceanic nature, but sadly the species has been studied over the decades due to the tuna industry practice of surrounding these dolphins to gather the large tuna underneath the pod. Most of the data collected consists of body size and reproductive conditions, since thousands of dolphins have been necropsied after death.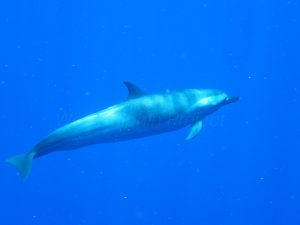 Windy, windy, windy….it seems to be part of our summer field season this year. Despite the weather, one of our sponsors from the FocusedOnNature Foundation, Hussain Aga Khan, managed to get some great photos of our larger groups of dolphins. Always helpful for photo ID, Hussain has traveled the world to photograph nature, and we are always grateful for another sharp eye, and camera talent, in the water.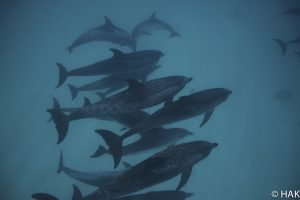 We had one major sighting this trip that we have been waiting for since 2014. Burgundy, one of our northern female dolphins, and offspring to Brush, has given birth to our first 4th generation dolphin! Named Bueno, this truly shows our age as an organization, and we are proud to have tracked this family throughout our decades including Great Grandmother Paint, Grandmother Brush, Mother Burgundy, and now Bueno, through their lives. We are still not sure whether Bueno is a boy or girl, so stay tuned!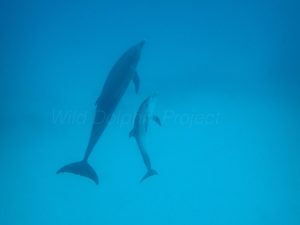 This trip we also say goodbye to Cassie Volker, our Research Assistant. Cassie will be moving back to Ohio to study large cats! We wish her well on her next adventures, and like Bethany, we hope to lure her back to the Bahamas for a reunion trip of the best Research Assistants ever!!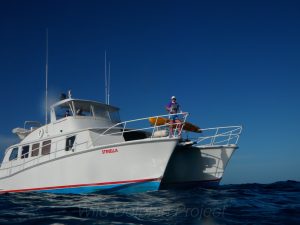 Denise Herzing, Research Director