We've said here at the Wild Dolphin Project many times — it takes a team to make the project (and in particular) the field season run smoothly!
To study dolphins in the Bahamas every summer, we live on our 65-foot Research Vessel Stenella. The boat holds 12 people and we've got a team that includes our research director, Denise Herzing, a research assistant, captain, first mate, field assistants and interns, citizen scientists, and of course, the person who is responsible for keeping us fueled and happy — the cook! It's no easy feat feeding 12 people 3 meals a day, plus snacks, on a moving vessel. In fact, Dr. Herzing often says the cook is the most important person on the boat.
The Menu
Meals for the trip are planned, with room for error and lots of snacks. Most people might assume we're eating things like peanut butter and jelly every day, but we actually eat really well at sea. We're swimming and working hard, so nutritious healthy meals are critical.
Breakfast options always include cold items, like yogurt, bagels, fresh fruit and cereal. Then, depending on weather and time, we also often do a hot breakfast option like bacon, sausage, eggs, french toast, etc…
Lunch options always include sandwiches, various cold salads, and then things like quesadillas, chile, hot grilled cheese, pizza and/or leftovers.
For dinner, we have a taco night, burger night, a couple pasta nights, and then usually some kind of grill night. We always try to have veggies and a fresh salad along with a protein, including a protein option for vegetarians and vegans. If we're really lucky sometimes our captains will catch us fresh fish and lobster too.
Then throughout the day, there are snack items like fresh fruit and veggies, dips, crackers, chips, nuts, protein bars and sweets.
Meet the Chef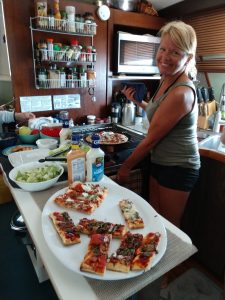 Our cook for the past 3 years has been Theresa Carlsen, who learned about the project after reading Dr. Denise Herzing's book, Dolphin Diaries. "I came upon her book after I moved to Florida from Colorado and became interested in marine mammalogy. I was researching the many aspects the field is study offered, and it wasn't until I finished her book, that I realized the project was located near where I live in Florida."
The information found in Dolphin Diaries motivated Theresa to go back to school and earn her BA, during which she interned on a trip in 2014. "I learned and enjoyed it so much, I have served on the Community Advisory Committee ever since. Working on the boat for Denise and the Project is very rewarding and I am thankful to have the honor of participating in field season. "
So, what's the job like?
First, there's the daunting task of provisioning the boat for each expedition. It's an all day affair shopping at Publix and Costco, making sure we grab every item off the checklist and then loading up the boat and stowing everything away. We've found ways to be creative with limited space, such as using space under salon seats to store canned and dry goods. The refrigerator, however, is always jam-packed the first few days.
"My day begins at 6:30am to begin preparing breakfast for the crew and passengers and, of course, to consume my first cup of coffee to wake up for the day ahead," says Theresa."I prepare three meals per day, put out snacks at least twice a day and cleanup after each. Lunch time varies, depending on on how active we are with dolphin encounters. Dinner is usually at 8:00pm and, depending on the evening, may consist of a Taco Bar (a crew favorite), "grill night", stir fry, or spaghetti, to name a few."
Dishes are endless on a boat with 12 people, so crew usually try to jump in and help her out as often as possible, especially with dinner. When other people get to rest during they day as we search for dolphins, she's prepping for the next meal. When everyone else is seasick in bed, Theresa is in the galley fighting the waves to make sure food is made. She's a trooper!
"Probably the most challenging aspects of the job are the intrinsic limitations of cooking on a boat," she says. "The appliances are different, the working space is small, and chopping and cooking on a gas stove while the boat is moving, sometimes in turbulent water, can require some balance and coordination. I must have burned or cut myself a dozen times the first few trips."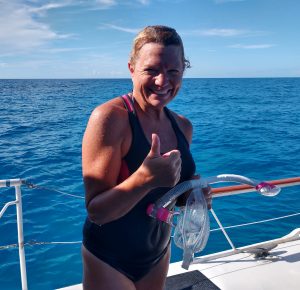 Yet, despite the challenges, Theresa has one of the best attitudes of anyone. She's always grateful to be on the water, observing wild dolphins and being surrounded by other marine-mammal lovers. Being near the food also means that she's where people congregate. "I am often placed in ear shot of some amazing conversations, usually focused on one of my favorite topics— marine mammals, their behavior, and approaches to studying them in the wild noninvasively."
"The excitement that comes each time we "find" the dolphins reenergizes me and never gets old. When another team is in the water, it is not uncommon for me to be able to see the dolphins in the beautiful Bahamian water right from the galley window. In my estimation, there is no better office view in the world."
One of Theresa's favorite moments, though she admits it's difficult to pick just one, was an interaction with two juvenile males named Monkey and Jammin. "Monkey was in the group in the very first encounter I had as an intern in 2014. These two animals chose to play a game of "fetch" with seaweed for almost an hour and a half," she says. "Anytime the dolphins choose to interact with us in the water is a privilege and in this particular encounter, they seemed to want us to play their game with them. We happily obliged."