Giving Tuesday  
On Tuesday, November 27th WDP will participate in the biggest online giving event worldwide: #GivingTuesday. During this day of giving, WDP will be celebrating the significance of long-term research and how it directly impacts the dolphins in the wild, such as Lamda.
Grass River Garden Club Presentation 
On Wednesday, February 13, 2019 Grass River Garden Club will host WDP for a special presentation by Research Assistant, Cassie Volker.  The Grass River Garden Club is located in Delray and focuses on the environment.
Wild Ocean Science 
SAVE THE DATE! On Saturday, March 2, 2019 our 2nd annual Wild Ocean Science event will take place at the Eissey Campus Theatre at Palm Beach State College (11051 Campus Drive, Palm Beach Gardens). This year's unique event will feature National Geographic photographer, Brian Skerry and will be hosted again by journalist, Miles O'Brien. Mark this date in your calendar now and visit www.wilddolphinproject.org/media/wild-ocean-science for sponsorship opportunities, tickets, and event details.
"Dolphins: Breaking the Code"
On Wednesday, March 27, 2019 PBS's Changing Seas will offer a live screening of "Dolphins: Breaking the Code" with Q&A from the expert panel of WDP researchers after the film.
Coastal Fest 
On Saturday, April 6th from noon - 5:00pm, WDP will be attending Coastal Fest in Jupiter, Florida. This event is coastal themed, free, family friendly and located at the Plaza Down Under on the Riverwalk.  Visitors to WDP's booth will enjoy learning about WDP's research, meeting key staff, receiving a free book and newsletter, and learning how researchers identify dolphins using visual cues in our ID catalog.
This event features live music, Moana character appearance, hula dance lessons, local artisan vendors, food trucks, bounce houses, face painting, touch tank, kids's games and activities, and a tiki bar serving beer and wine.

Great Give 2019 
On Wednesday, April 24, 2019 WDP will be participating in the annual 24-hour online event: Great Give 2019. Critical data was obtained by using this equipment during the 2018 field season and we hope to deploy it again in 2019. These listening devices are used for recording dolphin sounds remotely and allow us to analyze when dolphins travel through certain areas.
Recent Events
November 15, 2018 - NAWCTSD Agency Fair 
On Thursday, November 15th, Melissa Williams of The Wild Dolphin Project attended the NAWCTSD Agency Fair in Orlando, Florida, urging Federal Employees to participate in workplace giving and support WDP's organization with their contributions. Over 200 attendees received a free WDP coffee table book and newsletter to learn how their generosity through workplace giving helps us learn about the dolphins and the environment in which they live. The more we learn, the better equipped we are to help protect them In Their World...On Their Terms... (CFC#69488)
November 4, 2018 - Watermen for Life Launch Luau 
On Sunday, November 4th, WDP attended Watermen for Life's Launch Luau at the Delray Beach Playhouse. This local group was formed to honor the spirit and memory of Willie Awa Auhoon by doing good works in his name. Guest to the event enjoyed Lunch plate luau by Bear's Food Shack, great music, presentation by WDP's RA Cassie Volker, paddle lessons, kid's "tattoos" & face painting, games for all ages, chair massage, silent auction, sponsor tents, and more… Proceeds from the event were generously donated to The Wild Dolphin Project. Visit watermenforlife.org to learn more about their mission.
October 17, 2018  
Research Assistant, Cassie Volker, presented to the Kiwanis Club of Delray Beach. Her topic was overview and introduction to The Wild Dolphin Project. This club meets every week and has served the needs of our community for over 41 years. The Kiwanis club of Delray Beach-Sunrise has numerous opportunities to get involved and provides numerous benefits to its members. To find out more, this is website and latest newsletter.
October 13, 2018  
On Saturday, October 13th, Center Park Plaza hosted "Family Fun Day", a fundraiser benefitting a local charity Catch the Wave of Hope who lead the way to bring awareness, healing, and action to abolish human trafficking. Many who attended this event enjoyed games and goodies, raffles and prizes, store discounts, a bounce house and face painting, live music and more. Catch the Wave of Hope founder, Lynne Barletta spoke about awareness and how to protect your children. Guests who stopped by WDP's table were able to win a raffle basket, sign up for a newsletter, receive a free coffee table book and learn how we identify dolphins using an ID catalog.
September 22-23, 2018 
On Sunday, September 23rd, Dr. Herzing was the keynote speaker for the Sustainable Oceans 2018 Conference at Dalhousie University in Nova Scotia. This student-run conference led by the Master of Marine Management students of the Marine Affairs Program in Halifax, funded by the Sobey Fund for Oceans, challenges you to think critically about the future of our oceans, while examining your own daily activities and how you can make small changes to support ocean-positive choices.  Through engaging with student and guest speakers, ocean optimism activities, and community organizations, the goal of this conference to is spark a new connection to the marine environment and instill inspiration to working together to ensure that our oceans and sustain us into the future.
June 8, 2018 
June 8th was World Oceans Day and thanks to the "March For The Ocean" gathering in Washington D.C. and sister marches across the globe, awareness was raised for the restoration and protection of the oceans we love. Read more about World Oceans Day here: www.worldoceansday.org/ and about the worldwide movement taking place here: www.marchfortheocean.org/.
Since we were out to sea during the event, we couldn't participate but we do have a special message from Dr. Herzing about how plastic affects dolphins in the wild. Video
This blog post by Bethany Augliere includes 5 simple tips to save the planet: www.wilddolphinproject.org/happy-earth-day/
April 24, 2018 
On April 24th we participated in the Great Give, a 24-hour online giving opportunity celebrating the spirit of giving. Visit our personalize page here: https://www.greatgiveflorida.org/organizations/wild-dolphin-project to see if we reached out goal find out how contributions during the Great Give helped to fund our need for new technology. Read Dr. Herzing's blog post for the outcome: www.wilddolphinproject.org/can-hear-now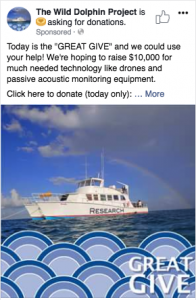 April 14, 2018 
The Wild & Scenic Film Festival is one of the nation's premiere environmental and adventure film festivals. These international short films are sure to get your adrenaline pumping, heart thumping, eyes popping and jaws dropping! Soul-stirring stories and grand sweeping vistas give us a sense of place and what it means to be responsible stewards of the earth. They illustrate not only the challenges facing our planet but the work communities are doing to protect the environment and the places we love. They capture the magnetic draw of nature, epic adventures and the emotional kaleidoscope of the human spirit.
We are honored to have a table at this event to meet new friends
March 24, 2018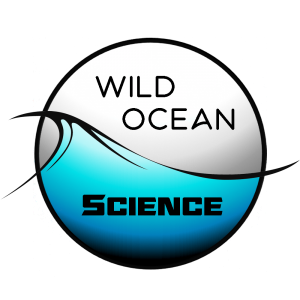 Our first annual event, "Wild Ocean Science", was a success! Over 200 people were in attendance filling the lobby area of the Osher Lifelong Learning Center at FAU in Jupiter. A beautiful slideshow by photographer, Hussain Aga Khan, donated by his foundation, Focused on Nature, played in the auditorium while guests enjoyed refreshments, browsed the raffle and silent auction tables, had their book signed by Dr. Herzing, perused our sunshirts and t-shirts, and mingled with friends.
As the event got underway, special guest host Miles O'Brien introduced the premiering film, "Dolphins: Breaking the Code" by Changing Seas, a SouthFlorida PBS production. Thanks to student sponsors (Axel Stepan, Nic Mader, and Lisa Fast) 38 students from The Ideal School in Royal Palm Beach, The Gale Academy in West Palm, and FAU were in attendance, asking some great questions during the Q&A.
Research Associate and Wildlife Photographer, Bethany Augliere, donated a photo of "Shimmer", a juvenile dolphin, and was our event photographer for the evening. You'll see her photos posted on facebook.
There was a great variety and some amazing prizes in our raffle and silent auction! We received donations from: Ruth Petzold Photography, Focused on Nature, Bethany Augliere Wildlife Photography, Diver's Alert Network, Craft Beer City, Changing Seas, Lojo Sports, Bolay, Scuba Works, Lane Spa, CUR Salt Spa, PRP Wine, Mindquest Escape Rooms, Island Exposure, and more! Congratulations to all of the winners!
The entire episode of "Dolphins: Breaking the Code" can be seen here.
February 2, 2018
Research assistant, Cassie Volker, gave a compelling and educational presentation about the objectives and strategies of The Wild Dolphin Project at the River Center located at 805 N US Highway 1 in Jupiter, Florida. The River Center is dedicated to preserving the Loxahatchee River and its natural habitats, by designing innovative wastewater solutions, furthering river research efforts and fostering environmental stewardship. They host a monthly lecture series where guests can learn about various topics. Watch part of the presentation on our YouTube channel here.
January 3-6, 2018
Dr. Herzing attended the Abaco Science Alliance Conference, held in Marsh Harbour, Bahamas.  This conference, held every two years and sponsored by Friends of the Environment, is a gathering of researchers, students and interested public. Talks included presentations on conch and bonefish resources and policies, marine mammals, fishing issues, and plastics in the ocean. Particularly striking was the school children programs engaging these young people to be both advocates and activists. WDP was privileged to share our knowledge of the changes in our local dolphin community and the implications of climate change to marine mammals.
October 22-27, 2017  
Dr. Herzing attended the 2017 Society for Marine Mammalogy meeting in Halifax, Nova Scotia in October. Every two years, scientists from around the world and across disciplines get together to share their findings and thoughts.  This year's meeting was a harsh and critical reminder that the world's marine mammals are in trouble and face new challenges at accelerating rates.  Read more about the conference in our Fall newsletter.
Thursday, August 10th  
Force E Scuba Shop in Boca Raton, Florida hosted a talk by Bethany Augliere entitled, "A Night with Dolphins". Approximately 50 guests learned about the spotted dolphins in the Bahamas from Bethany's first hand experience as a research scientists with The Wild Dolphin Project.

Wednesday, May 17th 
The Great Give 2017 came and went with a bang! This one day only (yes, only 24-hours) giving event celebrates the spirit of giving as anyone and everyone is able to donate to their favorite charity. Thanks to our generous sponsors, donations received during the Great Give were matched 1:1 helping fund our efforts to "Crack the Code" of dolphin communication. Nozzle Nolen (the only Green shield certified pest control company in South Florida) was able to sponsor us again for the 2nd year in a row and we pleased to get new sponsors as well: Under Blue Waters (a kid's camp is that is fun and educational as they incorporate marine science lessons into every camp adventure including a "Wild Dolphin Camp"), Salt Water Brewery (Delray's first local production microbrewery whose handcrafted beer and corresponding name is inspired by the ocean), and Coral Reef Crossfit (the best gym in Jupiter to get fit, get strong, and is within walking distance to the beach).
Thanks to the many donations that poured in that day, we were able to meet and exceed our goal. Thanks to  your support we are able to spend more time in the field. As you may know, 2017 is our 32nd consecutive field season. We wouldn't be able to continue our mission without your generous spirit. We appreciate the time and effort it takes to contribute to your favorite charity.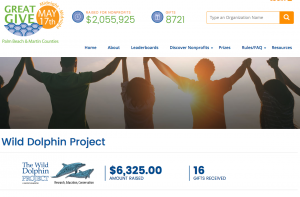 Thank you to Nonprofits First, for their contribution! They are the leading resource for strengthening the operational and administrative capacity of nonprofit organizations in Palm Beach County. Comprised of experienced professionals, consultants and volunteers, the vision of Nonprofits First is a community in which all nonprofits achieve their highest level of success.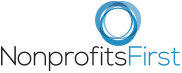 Saturday, May 13th
What traits do dolphins possess that we humans exhibit in our workouts? Synchrony, communication and partnership!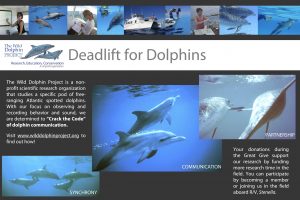 Thanks to Jon Galui, owner and trainer at Coral Reef Crossfit who wrote up a grueling workout for our "Deadlift for Dolphins" wod for a cause, athletes paired up with a partner for a workout utilizing communication and synchrony just like dolphins do. Within walking distance to Juno Beach, this is gym is your best bet for getting fit in Jupiter, Florida. Watch part of the workout here: Deadlift for Dolphins!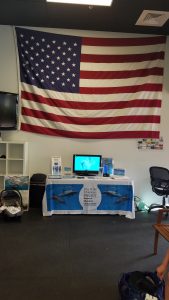 Funds raised were donated to The Wild Dolphin project during the Great Give 2017 on May 17th in an effort to support our mission to "Crack the Code" of dolphin communication by providing more time studying and observing dolphins in the wild... in their world...on their terms.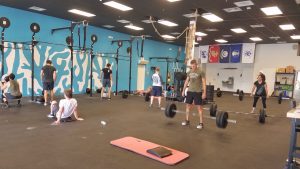 Thursday, May 4th
This evening we celebrated the spirit of giving and Saltwater Brewery, Delray's first local production microbrewery whose handcrafted beer and corresponding name is inspired by the ocean. Funds raised were donated to The Wild Dolphin project during the Great Give 2017 on May 17th in an effort to support our mission to "Crack the Code" of dolphin communication by providing more time studying and observing dolphins in the wild... in their world...on their terms.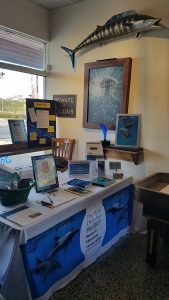 Saltwater Brewery developed biodegradable and edible six-pack rings in hopes to make a big impact on ocean pollution and conservation. the A video demonstrating their efforts to can be seen here.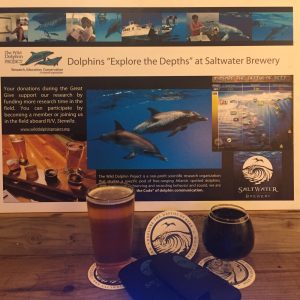 Congratulations to our raffle basket winner, DJ! The basket included a brewery tour for 12, pint glasses, wdp merchandise and a photo by Ruth Petzold.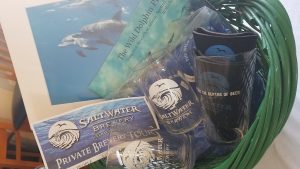 Saturday, April 22nd 
Under Blue Waters hosted a cleanup in celebration of Earth Day at Deerfield Island Park. Proceeds from that clean up were donated to The Wild Dolphin Project as matching funds for the Great Give 2017.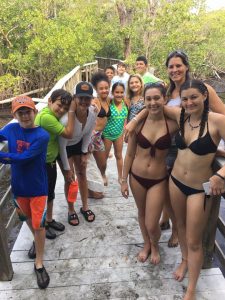 Thursday, April 20th 
Dr. Denise Herzing was the guest speaker for the seventeenth annual Nicholas Megrath Scholarship Awards Dinner sponsored by The Friends of the Gale Academy of Environmental Science and Technology at Forest Hill Community High School in West Palm Beach, Florida. Nicholas Megrath was an honor student at the Environmental Academy at Forest Hill Community High School before his untimely death in 1999. He would have graduated in June of that year. His memory is kept alive with a scholarship program to help graduating students of the Academy further their education. All photos from the event can be viewed here.
Saturday, April 8th Wild & Scenic Film Festival
The Wild & Scenic Film Festival is the largest environmental film festival of its kind in North America being hosted in WDP's own backyard. This powerful international series of short films are a call to action! Soul-stirring stories and grand sweeping vistas illustrate not only the challenges facing our planet but the work communities are doing to protect the environment and the places we love. They also portray the magnetic draw of nature and the adventurous side of the human spirit. The Wild & Scenic Film Festival will leave you feeling INSPIRED and MOTIVATED to go out and make a difference in your community. The Wild Dolphin Project was honored to have the privilege to join the festival and education the public about WDP's mission and vision. Jupiter Inlet Lighthouse and Museum hosted the event and films will be shown at the waterfront Lighthouse on the "big screen." Approximately 500 people were in attendance for the 18 stunningly beautiful short films that made a big splash!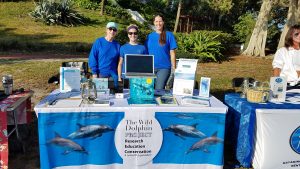 Saturday, April 1st Coastal Fest
WDP had an exhibition booth at Coastal Fest, an event held at The Plaza Down Under on the Riverwalk in Jupiter, Florida.  There was live music from "Fresh Catch", face painting and kids festival, great food & beer, and local artisan vendors.
More information can be found here.

March 20th - 24th Wild Dolphin Camp
WDP partnered with Under Blue Waters to offer a week-long Spring Break camp aboard Research Vessel, Stenella. Campers will got to experience being a Junior Marine Biologist and earn their PADI Skin Diver Certification while mastering their snorkeling skills observing and exploring marine life at the Blue Heron Bridge and Peanut Island. The itinerary included dolphin behavior, research, and conservation education, boaters safety instruction, marine biologist career talk, environmental conservation education, water sports such at paddle boarding, and more! More information can be found here.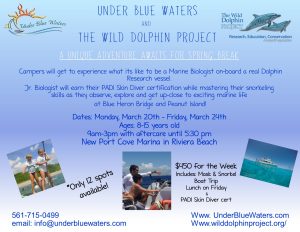 Saturday, Feburary 25th Sea Fest
WDP had an exhibition booth at Sea Fest for Kids at The Jupiter Inlet Lighthouse and Museum, 500 Captain Armour's Way, Jupiter, Florida 33469. Approximately 3,900 people attended this event. WDP's interactive tent offered educational opportunities for children in attendance including: How to identify a dolphin, a brief lesson in the age classes of the Atlantic spotted dolphins, identifying dolphin predators and prey, and more.
Sea Fest for Kids at the Jupiter Light celebrates all things Maritime, Music and Fun! Enjoy a family day on the waterfront with sea-inspired education & adventures for kids to celebrate the Jupiter's areas coastal heritage and history. Meet a real Mermaid and a Pirate or two on their Pirate ship. An unforgettable day filled with history and maritime demonstrations, music, arts & crafts, food and a treasure of activities awaits your family.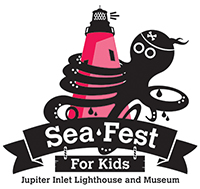 February 21st 2017 Whale Tales
Traveling to Kapalua, Hawii, Dr. Herzing was one of ten presenters for the 11th annual Whale Tales hosted by Whale Trust Maui, which is a nonprofit organization dedicated to scientific research and public awareness of whales and their environment
February 2017
Thursday, February 2nd Dr. Denise Herzing presented a talk to Jupiter Drift Divers at the Jupiter Fire Station, 805 U.S. Highway One, Jupiter, FL 33477. Jupiter Drift Divers is a group of dedicated SCUBA enthusiasts who live, work or just play in and around Jupiter, Florida. Approximately 30 people were in attendance at this event. More information about Jupiter Drift Divers is available on their website.
November 2016 
Saturday, November 19th WDP had an exhibition booth at the 2nd annual BandSandBrews event at Carlin Park in Jupiter, Florida. This event was sponsored by Teach the Beach, which is a fellow non-profit organization. Their goal is to raise awareness of ocean and environmental conservation. This event, attended by over 750 guests, featured craft beer tasting from local breweries and live music from the following bands: Ethan Parker Band, The Helmsmen, and Blackjack Billy. On this beautiful sunny day Theresa Carlsen (Community Advisory Board Member), Ariel Vierheller (Research Assistant), and Melissa Williams manned the booth collecting memberships and answering questions about the project and WDP's role in ocean conservation.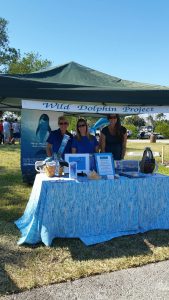 November 2016
Thursday, November 17th, WDP held a fund raiser event at Guanabanas located in Jupiter, Florida. The crowds gathered in the  tropical waterfall setting and enjoyed the evening's signature drink, "Pink Dolphin Delight". Attendees had an opportunity to learn about the project and participate in a raffle and silent auction where the prizes included spectacular dolphin photos and artwork, posters, t-shirts and other WDP merchandise, a "kid's only" WDP basket, Mako Vodka merchandise from our gracious sponsor, SUP gift certificate from 2 Guyz Paddling Surfari, a Trader Joe's basket, sports memorabilia, signed copies of Dr. Herzing's book "Dolphin Diaries", and TWO grand prizes of a private one-day trip aboard Research Vessel, Stenella!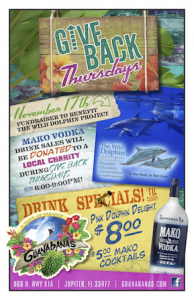 October 2016 
October 18th WDP had a display table at The City of Orlando Employees Workplace Giving Open House which took place at the Amway Center located in downtown Orlando.  Over 500 employees arrived to choose from many deserving non-profit organizations to designate their workplace giving funds.
Summer 2016  Art in Public Places
The lobby of City Hall in Palm Beach Gardens, Florida was adorned during the summer months of 2016 with art from renowned photographer and long-time friend of WDP, Ruth Petzold. Due to the efforts of a dedicated Art in Public Places Advisory Board, which is supported by the City Council, public art thrives in Palm Beach Gardens. As businesses grow and prosper, so does the appeal of this public, assessable art.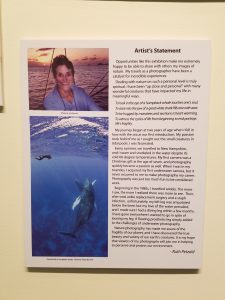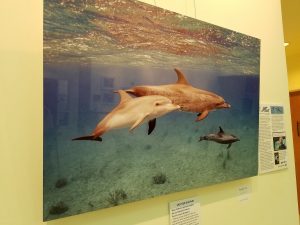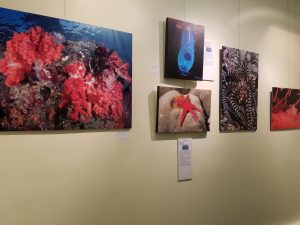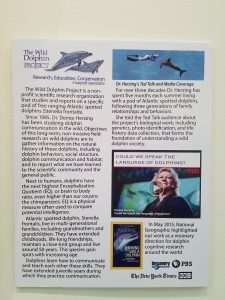 April 2016 
April 20th University of Chicago Talk
Dr. Herzing presented at the University of Chicago, in the Comparative Behavioral Biology Program, to a group of faculty and graduate students. The department is well known for a diversity of behavioral biology projects with primates, bats, and other species. The title of the talk was "Dolphin Behavior and Communication: Tools, Technology, and Time".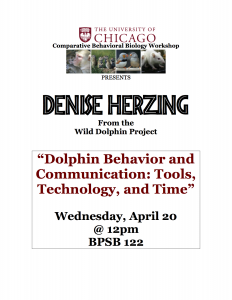 April 15-16 Workshop: Breakthrough Initiatives
Dr. Herzing recently participated in an invited workshop for the "Breakthrough Initiatives" at Stanford University hosted by the Physics Department. Often a participant with the SETI Institute and Astrobiology initiatives, Dr. Herzing contributes papers and thoughts on how we might recognize other types of intelligence and what we have learned about communicating with other species. Many similar minded scientists were at this first of many workshops for the "Breakthrough Initiatives", a newly funded program to put effort into finding life on other planets.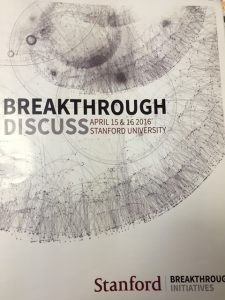 April 6th Dolphin Day for STEM Students
On April 6, 2016, Dr. Herzing joined 400 middle school students at Beverly Vista School in California to share information about the Atlantic spotted and bottlenose dolphins in the wild including their behavior, social structure, communication and habitat as well as reveal the latest research by the Wild Dolphin Project. Full of enthusiasm, the STEM (Science, Technology, Engineering, and Mathematics) students eagerly lined up to ask Dr. Herzing thoughtful questions. Dr. Herzing looks forward to an opportunity to work with these students again in the future. Later in the evening Dr. Herzing lectured to high school students and the general public. Representatives from Agnes Scott College hosted a meet and greet with food and refreshments.
October 2015 Scheller College of Business in Atlanta, Georgia recently hosted an IPAT lecture with Dr. Denise Herzing, research director of The Wild Dolphin Project and Guggenheim fellow, and Dr. Thad Starner of Georgia Tech.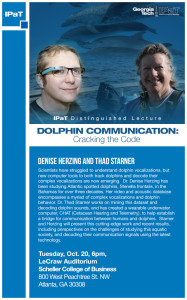 June 2015  Explorers Club Flag Expedition - download the report here.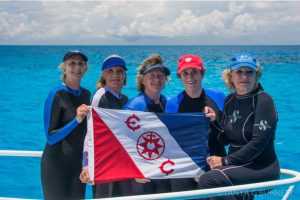 October 2014  In this event, Dr. Herzing and a group of interdisciplinary scientists participate in a SETI colloquium to summarize and discuss a two-way workshop held to explore nonhuman communication research. Participants for this two-day workshop include scientists who currently work in one of three areas: animal communication, information theory, or astrobiology/intelligence. The panel explored and discussed the implications for SETI and astrobiology at this colloquium, including ideas about new tools and techniques that may provide insight into advanced communication systems and intelligence. Click here to watch.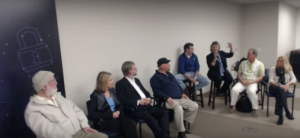 April 2013  The Museum of Science hosts Dr. Denise Herzing and Rob Shumaker, PhD, vice president of conservation and life sciences, Indianapolis Zoo, former biologist, curator, and exhibit designer, Smithsonian National Zoo. Click here to watch.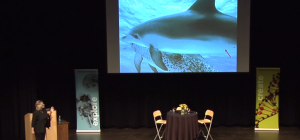 April 2013  How can SETI learn from Dr. Herzing's research  with dolphins in the wild? The search for signals out of noise is a problem not only with radio signals from the sky but in the study of animal communication on Earth. Like SETI radio signal searches, dolphin sound analysis includes the detection, recognition, analysis, and interpretation of signals. Dolphins use three main types of acoustic signals and many of these sounds have been a challenge to measure and categorize due to their graded and overlapping nature. The goal of this talk is to provide perspective from dolphin communication studies and lessons learned about signal detection and recognition. Click here to watch.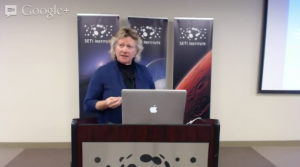 February 2013 Could we speak the language of dolphins? Dr. Denise Herzing speaks at the 2013 TED conference in Long Beach, California. Click here to watch.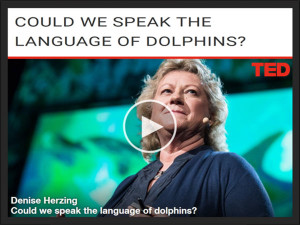 Talks with Dr. Herzing
Dr. Herzing gives talks every year both nationally/internationally about the Wild Dolphin Project's research during the off season from trips.  She was asked to speak at the 2013 TED Conference in February, in which thousands attended.
If you would like Dr. Herzing to come and give a presentation, please contact us either by phone at 561-575-5660 or by email at info@wilddolphinproject.org.  Please view our Talk Brochure for prices depending on where you are located.
Contact info@wilddolpinproject.org for more information.