Saturday, April 1st Coastal Fest
WDP will have an exhibition booth at Coastal Fest, an event being held 1:00 pm to 6:00 pm at The Plaza Down Under on the Riverwalk in Jupiter, Florida. Come out this spring to our first ever Coastal Fest. Enjoy the sounds of paradise from "Fresh Catch," a band straight out of Stuart. Specializing in a heavy Reggae sound, the band will serenade you while you enjoy food and local vendors. You will also have a chance to snap photos with a mermaid princess and an adventurous pirate. There will be live music, face painting and kids festival, great food & beer, and local artisan vendors. 
More information can be found here.

Stay tuned for more...
Recent Events
March 20th - 24th Wild Dolphin Camp
WDP partnered with Under Blue Waters to offer a week-long Spring Break camp aboard Research Vessel, Stenella. Campers will got to experience being a Junior Marine Biologist and earn their PADI Skin Diver Certification while mastering their snorkeling skills observing and exploring marine life at the Blue Heron Bridge and Peanut Island. The itinerary included dolphin behavior, research, and conservation education, boaters safety instruction, marine biologist career talk, environmental conservation education, water sports such at paddle boarding, and more! More information can be found here.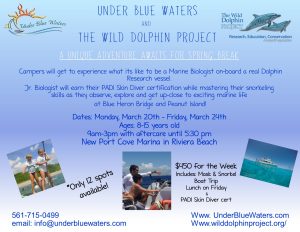 Saturday, Feburary 25th Sea Fest
WDP had an exhibition booth at Sea Fest for Kids at The Jupiter Inlet Lighthouse and Museum, 500 Captain Armour's Way, Jupiter, Florida 33469. Approximately 3,900 people attended this event. WDP's interactive tent offered educational opportunities for children in attendance including: How to identify a dolphin, a brief lesson in the age classes of the Atlantic spotted dolphins, identifying dolphin predators and prey, and more.  
Sea Fest for Kids at the Jupiter Light celebrates all things Maritime, Music and Fun! Enjoy a family day on the waterfront with sea-inspired education & adventures for kids to celebrate the Jupiter's areas coastal heritage and history. Meet a real Mermaid and a Pirate or two on their Pirate ship. An unforgettable day filled with history and maritime demonstrations, music, arts & crafts, food and a treasure of activities awaits your family.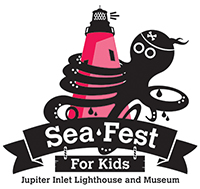 February 2016
Thursday, February 2nd Dr. Denise Herzing presented a talk to Jupiter Drift Divers at the Jupiter Fire Station, 805 U.S. Highway One, Jupiter, FL 33477. Jupiter Drift Divers is a group of dedicated SCUBA enthusiasts who live, work or just play in and around Jupiter, Florida. Approximately 30 people were in attendance at this event. More information about Jupiter Drift Divers is available on their website.
November 2016 
Saturday, November 19th WDP had an exhibition booth at the 2nd annual BandSandBrews event at Carlin Park in Jupiter, Florida. This event was sponsored by Teach the Beach, which is a fellow non-profit organization. Their goal is to raise awareness of ocean and environmental conservation. This event, attended by over 750 guests, featured craft beer tasting from local breweries and live music from the following bands: Ethan Parker Band, The Helmsmen, and Blackjack Billy. On this beautiful sunny day Theresa Carlsen (Community Advisory Board Member), Ariel Vierheller (Research Assistant), and Melissa Williams manned the booth collecting memberships and answering questions about the project and WDP's role in ocean conservation.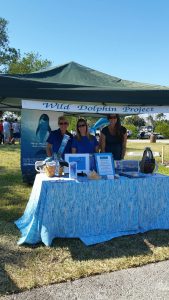 November 2016
Thursday, November 17th, WDP held a fund raiser event at Guanabanas located in Jupiter, Florida. The crowds gathered in the  tropical waterfall setting and enjoyed the evening's signature drink, "Pink Dolphin Delight". Attendees had an opportunity to learn about the project and participate in a raffle and silent auction where the prizes included spectacular dolphin photos and artwork, posters, t-shirts and other WDP merchandise, a "kid's only" WDP basket, Mako Vodka merchandise from our gracious sponsor, SUP gift certificate from 2 Guyz Paddling Surfari, a Trader Joe's basket, sports memorabilia, signed copies of Dr. Herzing's book "Dolphin Diaries", and TWO grand prizes of a private one-day trip aboard Research Vessel, Stenella!
October 2016 
October 18th WDP had a display table at The City of Orlando Employees Workplace Giving Open House which took place at the Amway Center located in downtown Orlando.  Over 500 employees arrived to chose from many deserving non-profit organizations to designate their workplace giving funds. 
April 2016 
April 20th University of Chicago Talk
Dr. Herzing presented at the University of Chicago, in the Comparative Behavioral Biology Program, to a group of faculty and graduate students. The department is well known for a diversity of behavioral biology projects with primates, bats, and other species. The title of the talk was "Dolphin Behavior and Communication: Tools, Technology, and Time".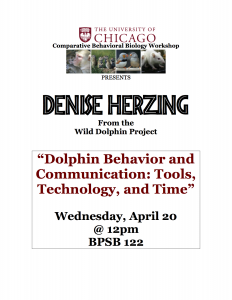 April 15-16 Workshop: Breakthrough Initiatives
Dr. Herzing recently participated in an invited workshop for the "Breakthrough Initiatives" at Stanford University hosted by the Physics Department. Often a participant with the SETI Institute and Astrobiology initiatives, Dr. Herzing contributes papers and thoughts on how we might recognize other types of intelligence and what we have learned about communicating with other species. Many similar minded scientists were at this first of many workshops for the "Breakthrough Initiatives", a newly funded program to put effort into finding life on other planets.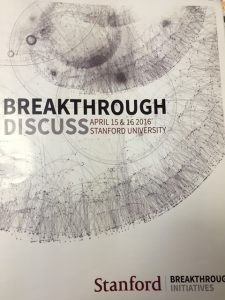 April 6th Dolphin Day for STEM Students
On April 6, 2016, Dr. Herzing joined 400 middle school students at Beverly Vista School in California to share information about the Atlantic spotted and bottlenose dolphins in the wild including their behavior, social structure, communication and habitat as well as reveal the latest research by the Wild Dolphin Project. Full of enthusiasm, the STEM (Science, Technology, Engineering, and Mathematics) students eagerly lined up to ask Dr. Herzing thoughtful questions. Dr. Herzing looks forward to an opportunity to work with these students again in the future. Later in the evening Dr. Herzing lectured to high school students and the general public. Representatives from Agnes Scott College hosted a meet and greet with food and refreshments.
October 2015 Scheller College of Business in Atlanta, Georgia recently hosted an IPAT lecture with Dr. Denise Herzing, research director of The Wild Dolphin Project and Guggenheim fellow, and Dr. Thad Starner of Georgia Tech.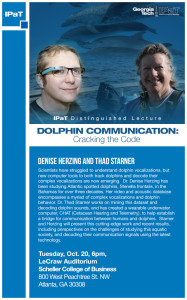 June 2015  Explorers Club Flag Expedition - download the report here.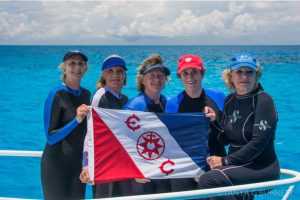 October 2014  In this event, Dr. Herzing and a group of interdisciplinary scientists participate in a SETI colloquium to summarize and discuss a two-way workshop held to explore nonhuman communication research. Participants for this two-day workshop include scientists who currently work in one of three areas: animal communication, information theory, or astrobiology/intelligence. The panel explored and discussed the implications for SETI and astrobiology at this colloquium, including ideas about new tools and techniques that may provide insight into advanced communication systems and intelligence. Click here to watch.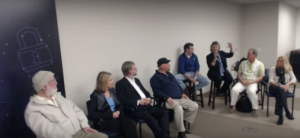 April 2013  The Museum of Science hosts Dr. Denise Herzing and Rob Shumaker, PhD, vice president of conservation and life sciences, Indianapolis Zoo, former biologist, curator, and exhibit designer, Smithsonian National Zoo. Click here to watch.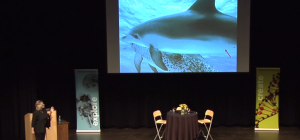 April 2013  How can SETI learn from Dr. Herzing's research  with dolphins in the wild? The search for signals out of noise is a problem not only with radio signals from the sky but in the study of animal communication on Earth. Like SETI radio signal searches, dolphin sound analysis includes the detection, recognition, analysis, and interpretation of signals. Dolphins use three main types of acoustic signals and many of these sounds have been a challenge to measure and categorize due to their graded and overlapping nature. The goal of this talk is to provide perspective from dolphin communication studies and lessons learned about signal detection and recognition. Click here to watch.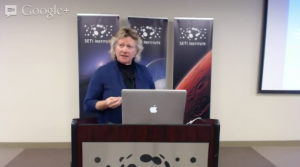 February 2013 Could we speak the language of dolphins? Dr. Denise Herzing speaks at the 2013 TED conference in Long Beach, California. Click here to watch.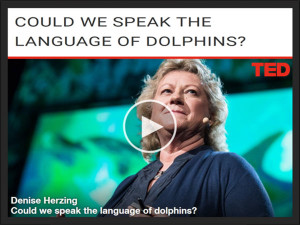 Talks with Dr. Herzing
Dr. Herzing gives talks every year both nationally/internationally about the Wild Dolphin Project's research during the off season from trips.  She was asked to speak at the 2013 TED Conference in February, in which thousands attended.
If you would like Dr. Herzing to come and give a presentation, please contact us either by phone at 561-575-5660 or by email at info@wilddolphinproject.org.  Please view our Talk Brochure for prices depending on where you are located.
Contact info@wilddolpinproject.org for more information.