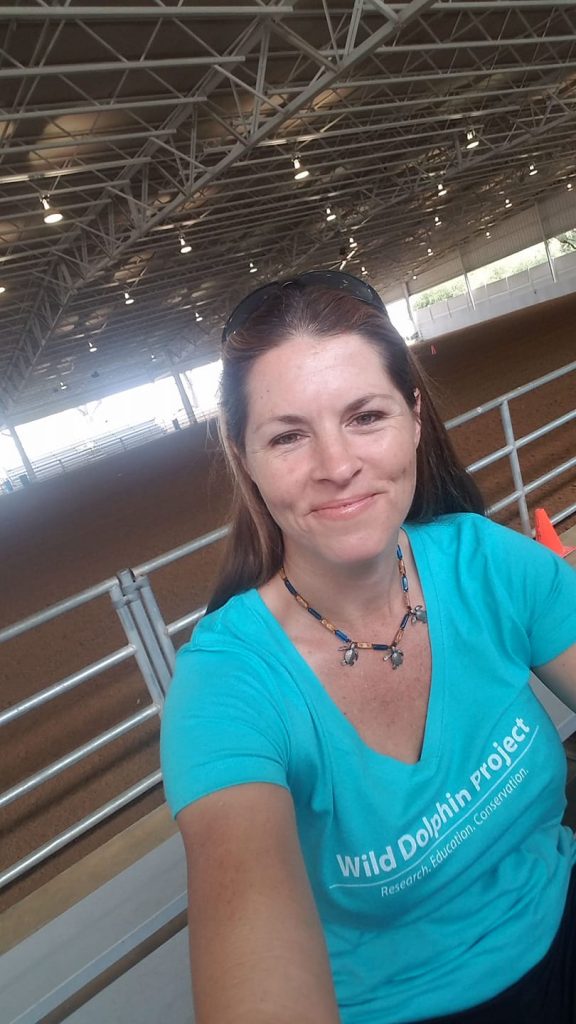 Melissa grew up in South Florida and always had a passion for the outdoors and animals, spending much of her days surfing and riding horses. In 2015, she was looking for a career change and for something with a sense of purpose. She saw the ad on Craigslist for an executive assistant with the Wild Dolphin Project and decided to apply.
It takes more than research to make the Wild Dolphin Project successfully run, so we wanted to sit down with Melissa to learn more about her role with the project, her interests and hear her thoughts on opportunities for non-scientists to work in ocean science.
WDP: Can you summarize your role with the project? 
M: When I first started here I was just doing administrative tasks, such as accounts receivable and payable, recording donations and memberships, maintaining inventory, providing clerical support for the rest of the team and performing all of the regulatory business compliance tasks. Over time, the role  morphed, where I began to take on more responsibilities and implement some new things, like monthly e-newsletters, streamlining the trip sign-up procedure, tweaking our online and community presence, and having some fun with new ideas for WDP merchandise (my favorite are the tanks by the way!). 
WDP: Describe your typical day, during the field season and during the off-season? 
M: Oh man, comparing the field season and the off-season is like night and day with a totally different set of hats to wear. In the off season, I am lining up local talks for Cassie (our research assistant) and attending local events for WDP's presence in the community, as well as generating our fall newsletter and annual report, and then after wrapping up the EOY giving. I then start preparing for our annual event, Wild Ocean Science, which is totally consuming for the next few months. After I catch my breath from WOS, I start getting ready for the field season and I dive head first into getting our passengers and interns onboard for joining us in the summer. Between coordinating 50+ people's schedules, application paperwork, supplying them with trip information, processing their trip payments and gathering our crew's information along adhering to the USCS, CBP, and The Bahamas' processes and procedures for each trip, it keeps me pretty darn busy to say the least! 
WDP: For your role, what do you think are valuable skills?
M: My work experience in the past has been with medium-sized companies and I'm lucky to have had great mentors that find the delicate balance in disciplining while motivating, guiding and re-aligning while being encouraging, and leading by example. I've often been promoted to management positions and I think what has helped me here at WDP the most is having plenty of office experience to stay organized and resolve problems, and be versatile and proficient and overall a hard worker.
WDP: What's something about your work at WDP that you are most proud of?
M: I'm rather proud of how our annual event, Wild Ocean Science, has turned out. This year, 2020, with Dr. Sylvia Earle, didn't happen due to the pandemic but if it did, it would have been amazing. We are fortunate to have a really great support team of volunteers on our Event Committed and I am extremely grateful for all the hard work they put in toward making WOS a successful event. There are so many moving parts to plan and organize and that makes it both fun and hectic, exciting and stressful. Watching the team come together with creative ideas and a wonderfully willing attitude is my absolute favorite thing.
WDP: What is something about your job that people might not realize? 
M: This is my first job in the non-profit sector and I didn't realize how challenging it can be. All I can say is that I am SO grateful for each and every one of our supporters!! 
WDP: Do you have a favorite experience or memory, either on land or when you've been out on a research expedition. 
M:  My favorite experience here has been watching the Lamda story develop, which was when one of the dolphins when stranded, was rescued and rehabilitated and then released back into the wild with a tag to keep track of his movement patterns. We were a part of getting back him with a pod when being released.  It has a happy ending for that individual animal and it truly illustrates the value of a long-term scientific research like WDP. 
Working with the Wild Dolphin Project has definitely gave me an immense appreciation for the altruistic work of scientists in general. It truly is a heart-led calling and the hard work is often under-recognized by the general public. I love seeing the calls-to-action and am thankful for scientists that raise awareness and make a difference to save our planet. 
WDP: A lot of people want to get involved with ocean science and conservation but don't necessarily want to be a scientist. What would you say to those people? 
M: I always recommend volunteering your time towards something you're passionate about. It's a great way to make connections and gain some experience. Sometimes the right candidate for a position has more value and potential than what is seen on paper. Our Community Advisory Board, Event Committee, and Board of Directors aren't scientists yet they play a vital role in the project. 
WDP: There are also opportunities to help the ocean in our daily lives. What's something you do in your life to help the ocean? 
M:  Every morning after the gym I go for a quick swim in the ocean before heading to the office. I'm at work by 9 so my day starts early. If I come out empty handed I'm happy that either there was no garbage to begin with or someone beat me to cleaning it up first. Sadly, most times I end up collecting more garbage from the ocean floor than I'd like to see.  Anyway, that's my small daily routine to keep the ocean beautiful and clean.
WDP: When you aren't working, what are some things you enjoy? 
M:  I have too many loves in life and there is just not enough time to enjoy all of them all the time, but I do my best. I love snorkeling, kayaking and SUP'ing, camping and hiking, riding my horse, martial arts and teaching self defense, Crossfit and obstacle races, spending time with my 20-year old daughter Jess, my husband Thomas, our 3-year old daughter Lily, our dog Chili, my church, God, and my family — not necessarily in that order, and I may have left a few things out. 
I think it can be tough to find balance between work obligations, life's responsibilities, and finding time for yourself and your family and what you love without leaning too much towards one thing and neglecting the other. We're only here for a short time so my advise is to make the best of it in everything you do.