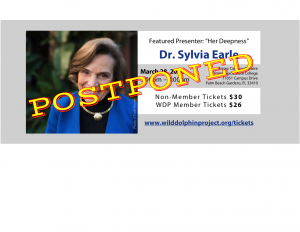 When:  Saturday, March 28, 2020 5:00pm - 8:00pm event details
Where:  Eissey Campus Theatre  11051 Campus Drive. Palm Beach Gardens, Florida 33410
Guest Speaker: Legendary Oceanographer, Dr. Sylvia Earle
Guest Host: PBS NewsHour Correspondent and independent American broadcast news journalist, Miles O'Brien
Sponsorship opportunities are available! Call 561.575.5660 or Email wildoceanscience@gmail.com 
More about Dr. Sylvia Earle:
Previous Wild Ocean Science events
When:  Saturday, March 2, 2019 5:00 - 8:00pm
Where:  Eissey Campus Theatre  11051 Campus Drive. Palm Beach Gardens, Florida 33410
Guest Speaker: Brian Skerry, National Geographic Photographer and photojournalist specializing in marine wildlife
Guest Host: Miles O'Brien, PBS NewsHour Correspondent and independent American broadcast news journalist
We appreciate support from the following:
     Sponsors: Watermen for Life, Nicole Mader, Tracy Siani, Patricia Leigh & Patricia Weyer, Howard A. Green, M.D., Brown & Brown Marine Insurance, Captiva Spine, Southeastern Printing, Guanabanas Restaurant, Mr. & Mrs. Axel Stepan, Publix, 4Imprint, Old Port Cove - A Safe Harbor Marina, and Infinite Women Self Defense.
     Student Sponsors: Jay Garbose Underwater Video, Lisa Fast, The Port of Palm Beach, and Mr. & Mrs. Axel Stepan
     Vendors: Watermen for Life, Force-E Scuba, Reef Photo, Lureen Ferretti Photography
     Raffle items donated by: Shiny Sheets, Craig Dietrich Underwater Photography, Island Exposure, Bethany Augliere Wildlife Photography, Focused on Nature, Ruth Petzold Photography, Blueline Surf & Paddle Co, Bolay, Blackbird Jewelry, MANG, Trader Joe's, La Fogata, Anthony's Coal Fired Pizza, Professional Images, Lureen Ferretti Photography,  Shark Team One, Blue Marlin Restaurant, The Lane Spa, Florida Freedivers, Scuba Works, Jupiter Drift Divers, photographs from WDP Research Assistant, Cassie Volker, and WDP Graduate Student, Liah McPherson, and Bahamas Paradise Cruise Lines.
     Event Photographer: Sandra Effertz Photography
When:  Saturday, March 24, 2018
Where:  Osher Lifelong Learning Institute at FAU  5353 Parkside Drive, Jupiter, Florida 33458
Guest Speaker: South Florida PBS' Changing Seas Premier of Episode, "Dolphins: Breaking the Code"
Guest Host: Miles O'Brien
Our first annual event, "Wild Ocean Science", was a success! Over 200 people were in attendance filling the lobby area of the Osher Lifelong Learning Center at FAU in Jupiter. A beautiful slideshow by photographer, Hussain Aga Khan, donated by his foundation, Focused on Nature, played in the auditorium while guests enjoyed refreshments, browsed the raffle and silent auction tables, had their book signed by Dr. Herzing, perused our sunshirts and t-shirts, and mingled with friends. As the event got underway, special guest host Miles O'Brien introduced the premiering film, "Dolphins: Breaking the Code" by Changing Seas, a SouthFlorida PBS production. Thanks to student sponsors (Axel Stepan, Nic Mader, and Lisa Fast) 38 students from The Ideal School in Royal Palm Beach, The Gale Academy in West Palm, and FAU college students were in attendance, asking some great questions during the Q&A.
Research Associate and Wildlife Photographer, Bethany Augliere, donated a photo of "Shimmer", a juvenile dolphin, and was our event photographer for the evening. You'll see her photos posted on facebook.
There was a great variety and some amazing prizes in our raffle and silent auction! We received donations from: Ruth Petzold Photography, Focused on Nature, Bethany Augliere Wildlife Photography, Diver's Alert Network, Craft Beer City, Changing Seas, Lojo Sports, Bolay, Scuba Works, Lane Spa, CUR Salt Spa, PRP Wine, Mindquest Escape Rooms, Island Exposure, and more! Congratulations to all of the winners!
The entire episode which premiered during this event, "Dolphins: Breaking the Code" can be viewed online: www.changingseas.tv/season-10/dolphins-breaking-the-code/