Welcome to The Wild Dolphin Project
The Wild Dolphin Project is a non-profit scientific research organization that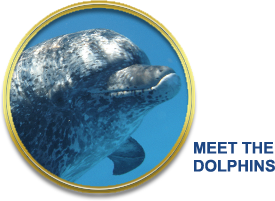 studies and reports on a specific pod of free ranging Atlantic spotted dolphins (Stenella frontalis). Since 1985, Denise Herzing has been studying dolphin communication in the wild. Objectives of this long-term, non-invasive field research on wild dolphins are to gather information on the natural history of these dolphins, including dolphin behaviors, social structure, dolphin communication, and habitat; and to report what we have learned to the scientific community and the general public.
YouTube Feature: Bottlenose Dolphins Foraging
Published on Nov 11, 2014
In this video, shot and edited by WDP staff Bethany Augliere, bottlenose dolphins (Tursiops truncatus) are bottom-feeding in the Bahamas.  Watch and listen as they scan the bottom – you can hear their echolocation as they search for fish below the sand. Once they find a fish, they dig head first into the sand, sometimes up to their pectoral fins! These feeding bouts have been observed for up to 5 hours.  Check out our Scientific Publications page to learn more.
Be sure to check out and subscribe to our YouTube page for more videos!
New WDP Membership Perks – Beginning December 1, 2014
Interested in a boat ride?  Have you ever seen a dolphin off the Florida coast?  Starting on December 1, 2014, the Wild Dolphin Project is offering new perks to our members.  A basic membership is $35.  As a member you get a free coffee table book from Dr. Denise Herzing, a newsletter, and first priority when signing up for summer trips!
Becoming a member or renewing your membership is easy.  Every little bit helps!  Whether you are looking to possibly participant onboard R/V Stenella or just stay updated on the project, our research, and upcoming events, a WDP membership will benefit you.
We encourage you to visit our Membership page to view all of the new perks with becoming a member or renewing your membership.  We also have a PDF with all of the benefits listed for each membership level.