40th Anniversary Celebration Gala
Join us on March 15, 2024 at The Pelican Club in Jupiter, Florida. ​We'll be celebrating Dr. Herzing's 40 years studying spotted dolphins in the wild. The evening will include a cocktail reception, a fabulous dinner, a silent auction, research vessel tours, and nostalgic memories collected from the past 40 years. If you have meaningful photos or a short video to contribute, please email info@wilddolphinproject.org for submission information.
Tickets are limited. Purchase them HERE.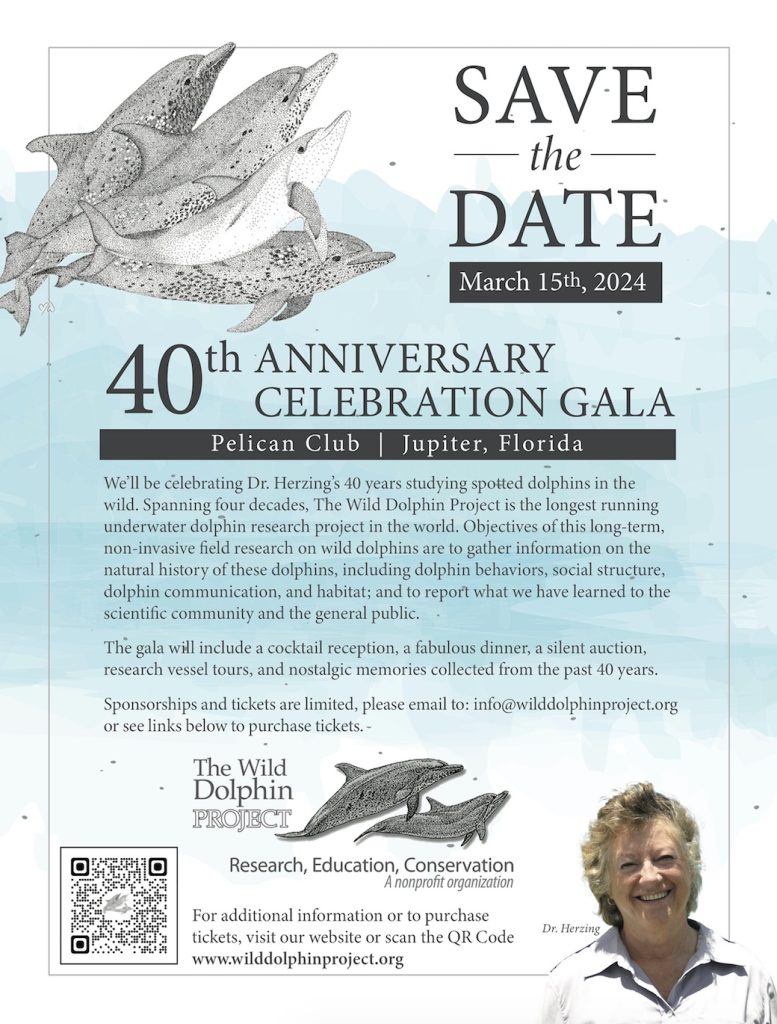 These sponsorship levels highlight 4 generations of an Atlantic spotted dolphin family line observed by Dr. Herzing and her team of researchers at Wild Dolphin Project. Choose your sponsorship level: Next Generation, Nesta, Nassau, Nereide, Nippy.
Dr. Herzing first observed Nippy in 1985 when she founded the project. In 1992, Nippy and her daughter, Nassau, were featured on the cover of National Geographic Magazine. Nassau has given birth to many offspring one of which is named Nereide, who was first observed in 2009 and now has a calf of her own, a curious and playful female we have named Nesta. Your support helps us continue long-term non-invasive research on dolphins in the wild studying them "In Their World...On Their Terms." Support us in studying the next generation of dolphinsNational Geographic Photographer Brian Skerry joined us in 2013 for an expedition to find and photograph Nassau, the "Afghan Girl" dolphin. Read our blog about Nassau here www.wilddolphinproject.org/a-nat-geo-photographer-and-dolphin-named-nassau/
Dr. Denise Herzing, Founder and Research Director of the Wild Dolphin Project, has completed almost 40 years of her long-term study of the Atlantic spotted dolphins inhabiting Bahamian waters. She received her B.S. in Marine Zoology; her M.A. in Behavioral Biology; and her Ph.D. in Behavioral Biology/Environmental Studies. She is an Affiliate Assistant Professor in Biological Sciences at Florida Atlantic University, Boca Raton, Florida. Dr. Herzing is a 2008 Guggenheim Fellow, a fellow with the Explorers Club, a scientific advisor for the Lifeboat Foundation and the American Cetacean Society, and on the board of Schoolyard Films. In addition to many published scientific articles, she is the co-editor of Dolphin Communication and Cognition, author of "Dolphin Diaries: My 25 years with Spotted Dolphins in the Bahamas" and "The Wild Dolphin Project (2002)".
Coverage of her work with the spotted dolphins has appeared in National Geographic Magazine 1992 and 2015, BBC Wildlife, Ocean Realm and Sonar magazines and featured on Nature, Discovery, PBS, ABC, BBC, NHK and TED talk.
Dr. Herzing has spoken at the Society for Marine Mammalogy, European Cetacean Society, International Fund for Animal Welfare, the Explorers Club, TED2013, Boston Museum of Science, American Cetacean Society and others.