Get Creative
More Ways to Give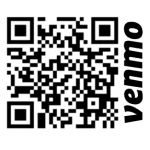 Venmo
Use Venmo as your digital wallet to safely and securely support The Wild Dolphin Project. Scan the QR code or click this link to make a contribution using your mobile device. Take me to Venmo!
Amazon Smile
Doing some online shopping? Make a contribution to the Wild Dolphin Project without costing you anything with Amazon Smile
Simply log into Amazon Smile using your existing Amazon user name and password, select Wild Dolphin Project as your selected charity and continue shopping as usual. The AmazonSmile Foundation will donate 0.5% of the purchase price from your eligible AmazonSmile purchases! Learn More about Amazon Smile here.
Buy and Sell on eBay for The Wild Dolphin Project (WDP)
Wild Dolphin Project is part of the eBay Giving Works program. You can support our mission when you buy and sell on eBay.
Do you buy on Ebay? When you do, shop our store! You can get a great deal and support the Wild Dolphin Project at the same time!
Do you sell on Ebay?:  Did you know that charity listings often get more – and higher – bids than regular eBay listings? Boost your sales and support our critical work while you're at it! Plus eBay gives back to you too, with a credit on your basic selling fees. Just designate our organization to receive 10-100% of your final sale price the next time you list something great. Support dolphin research and the Wild Dolphin Project when you sell on eBay!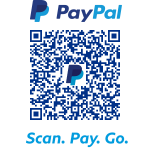 Paypal
Would you like to donate to WDP using your Paypal account? Scan the QR code or go right to the PayPal giving fund! Take me there!
Gift Cards
Give the perfect Gift! Purchase a WDP Gift Card which can be sent electronically immediately OR scheduled for delivery on a future date. Gift cards can be redeemed at our online SQUARE store. Browse our online store for WDP merchandise from books to t-shirts and more. It is the perfect gift for friends and family while supporting our mission.
Good Done Great
Wild Dolphin Project is has a profile on Good Done Great which is a cloud-based solution to Fortune 500 companies which engage their employees and communities through workplace giving. View our profile here and start giving today!
Network for Good
Network for Good makes giving to charity made easy and convenient. Support your favorite charities in one place, have your records stored for tax time, set up automated monthly giving, dedicate donations in honor of loved ones, share your favorite charities with others, and more. Find WDP here.