Bahamas Trip
An adventure with wild dolphins.
The crystal clear waters of the Bahamas are what drove Dr. Herzing to start her study in 1985. Since then, she has observed and tracked three generations of Atlantic spotted dolphin and bottlenose dolphin during annual field seasons that last 100 days almost every summer. To date, the Bahamas is still one of the few places to observe dolphin behavior underwater. As a foremost expert in dolphin behavior, Dr. Herzing, along with other WDP staff members, will explain the nuances of communication between the dolphins, including their foraging, mating, and aggressive behavior.
We interact with the dolphins "In Their World, On Their Terms." Touching, feeding, or harassing of the dolphins is not allowed. We observe a mutual and respectful relationship with these individuals, many of whom we have known for 30 years. We have grandmothers and even grandfathers (identified by our benign genetics work collecting fecal material) who are part of the community. We work with the dolphins in the water and use still photography, video, and advanced sound recording devices to document the intimate details of the dolphin's underwater behavior. We record signature whistles, hunting sounds, and high-frequency ultrasonic vocalizations that only our equipment can capture. Please see our page describing our work on Dolphin Communication. We usually have a graduate student or two onboard, involved in their own research projects, which they are happy to share with you.
Because our focus is research, we only have a maximum of six participants on any given trip to insure an intimate experience with research remaining the priority. Participants will be able to assist our staff while gaining exposure with collecting scientific data in the field. In between the dolphin work, we usually snorkel on different shipwrecks, our crew will fish for our dinner, or we will just observe the spectacular sunsets. We use only snorkel equipment during our work, and participants should be comfortable in the water for extended periods of time and have some practice snorkeling before participating. Please read A Typical Day on Stenella for more details.
Participants usually depart with the research crew from Florida on Tuesday mornings, cross the Gulf Stream to the Bahamas, and return to Florida 10 days later, debarking on a Thursday morning. Although we occasionally do shorter trips, we find that 10 days minimizes the interruptions of weather and other issues, insuring the possibility of some time with the dolphins on each trip, since they are free-ranging animals.
R/V Stenella is an open-ocean catamaran, ideal for anchoring in these shallow waters. She is a comfortable vessel, with an open living and dining area, two shared quarters, four bathrooms, and plenty of fresh and healthy food. Onboard we live family style, where everyone interacts and helps on a daily basis. Fresh water is made from the ocean using a reverse osmosis water maker. We recycle and try to minimize our impact on the ocean during our field season.
Our research vessel houses archival materials for you to review, including our ID catalogs of dolphin families, and multiple documentaries by BBC, Nature, and others that cover our work in the media.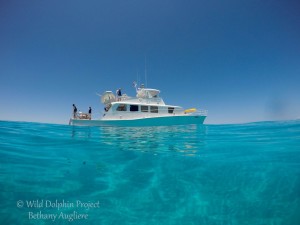 Trip Schedule
We are looking forward with great anticipation to the continuation of our work studying and observing Atlantic spotted and bottlenose dolphins in the wild for our 34th year in the field!
Updated: 9/28/2018
| TRIP | DATES | STATUS |
| --- | --- | --- |
| Trip #2 | TBD | TBD |
| Trip #3 | TBD | TBD |
| Trip #4 | TBD | TBD |
| Trip #5 | TBD | TBD |
| Trip #6 | TBD | TBD |
| Trip #7 | TBD | TBD |
| Trip #8 | TBD | TBD |
| Trip #9 | TBD | TBD |
Trip Price
The 2019 field season price is $TBA per person. To fully reserve your space, we require payment in full. The sign-up instructions provide more details.
Thank you for your interest in joining our research trips. We will finalize the summer schedule in December/January and release it initially to our members and give them first opportunity to sign up. Then, 4-6 weeks later we release the remaining spots to the general public for sign up. For more information about perks of membership visit our "Become a Member" page. To be placed on a notification list where you will receive an email when the remaining spots are being offered to the general public, please contact our field office via email fieldwork@wilddolphinproject.org or by phone 561.575.5660 with the following information:
CONTACT INFORMATION:
Full Name (as it is written on your passport)
Mailing address
Email address (one that you check frequently – this will be our main form of contacting you)
Phone number (cell/home/office) – whatever is best to contact you for additional information
Is participant younger than 18 years of age? (Yes or No)
Preferred trip number (or trip dates) or if you would like to be placed on a waiting list for an already full trip
PLEASE NOTE:  We will need payment in full before your trip is fully reserved. Do not send us an application or other documentation until your space is fully reserved. You may make your payment online in our store by finding TRIPS, or call our office with your credit card information, or mail a check to: PO Box 8436, Jupiter, Florida 33468. Please note: payment in full is required to fully reserve your spot.
Blogs are available here. Thank you for your interest in joining our research trips!