The 2023 season is underway! With two trips complete, we're off to the Bahamas again soon. But here's an update on the beginning of our summer.
Trip 1
The first trip of the season is always exciting. And this year was no different. As soon as we left our customs appointment, we immediately saw some of our Little Bahamas Bank dolphins. Included were Flying A and her new calf. Flying A was first identified by Dr. Herzing in the late 1980's and over the years has produced many calves. Go Flying !!!! By the way her name came from a horizontal capital A scar, quite visible when she was a juvenile dolphin, but now covered up by the spots of a fully grown adult. But we have followed her throughout her life.
A storm up north sent a large swell down our way for most of the trip, unfortunately churning up the sand, so visibility was not as good as it could have been. But such is fieldwork.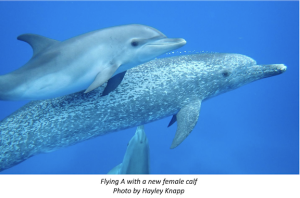 Trip 2
We headed to West End to see if we could find any of the dolphins from our Little Bahama Bank population again. The water on the bank was brilliant blue. We searched for a few days, but the weather was too rough to go north on the ridge. The passengers and crew enjoyed snorkeling at sugar wreck, an old sailing ship that sunk in about twenty feet of water while transporting sugar from the Caribbean. The colorful coral has taken over the wreckage and is now home to an abundance of fish life.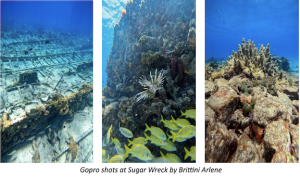 After a few days of searching, we crossed the deep water and headed south to Great Bahama Bank. Before we even reached the island of Bimini, four Atlantic spotted dolphins jumped on our bow. We geared up and slid in the water. It was four speckled juveniles – Nautica, Oreo, Birch, and Bonzai. They were very curious and swam around our group, clicking and whistling. The four were pec-rubbing, socializing, and playing with sargassum. It was a great first encounter for our second trip of the season.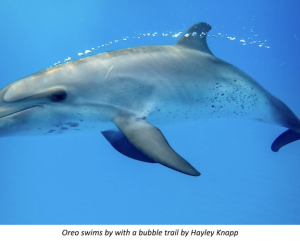 Later that day, we had an interspecies encounter with Atlantic spotted and bottlenose dolphins. Though they were outnumbered four to one, the bottlenose dolphins were leading the fight against the spotted dolphins. Bottlenose dolphins can be three times larger than spotted dolphins, so even in lesser numbers they dominate aggressive interactions. Our past research shows six spotted dolphins must work together to fend off one bottlenose dolphin.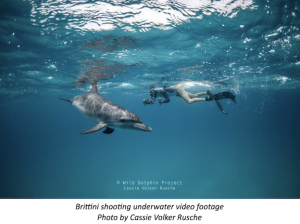 While in Bimini, we had two additional aggressive interspecies encounters. And each time, there was a spotted dolphin that we could not identify – an unknown mottled (young adult) male. Maybe he was a calf we thought lost and never photographed as a speckled juvenile. Now covered in a mottling of black and white spots, it would be almost impossible to match him to a photograph of a spotless calf. Or is he a new individual that emigrated to Bimini? It's a mystery we hope to solve!
The rest of our time in Bimini was filled with lots of spotted dolphins, a wide range of behaviors, and a few new calves. One of my favorite encounters of the trip happened while we were snorkeling on a reef called, "Hens and Chicks." Denise and I buddied up and swam over towards the rocks. As soon as we reached the reef, I could hear whistles in the distance. I wondered if dolphins might be close by? I heard them a few more times before they faded away. We enjoyed snorkeling above purple sea fans and a city of coral. We saw trigger fish, a sting ray, and a reef shark!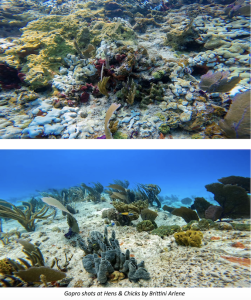 As we headed back to the boat, I heard the whistles again! I saw two fused adult females, Deni and Lava, swimming on the bottom and rubbing on soft coral. Then, a fused adult male named Duke surfaced with the females. Two younger females, Akita and Littleprawn joined the group. These five individuals stayed with us for just a few minutes and then swam off. When we got back to the boat, we learned that the dolphins had approached the stern of our anchored boat and then headed towards the reef. What a treat for our snorkelers to have five spotted dolphins swim by!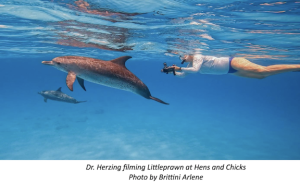 Thanks for reading and supporting our project!
Best,
Brittini