AN ADVENTURE WITH WILD DOLPHINS
The crystal clear waters of the Bahamas are what drove Dr. Herzing to start her study in 1985. Since then, she has observed and tracked three generations of Atlantic spotted dolphin and bottlenose dolphin during annual field seasons that last 100 days almost every summer. To date, the Bahamas is still one of the few places to observe dolphin behavior underwater . As a foremost expert in dolphin behavior, Dr. Herzing will explain the nuances of communication between the dolphins, including their foraging, mating, and aggressive behavior.
We interact with the dolphins "In their World, On Their Terms." No touching, feeding, or harassing of the dolphins is allowed. We observe a mutual and respectful relationship with these individuals, many of whom we have known for 25 years. We have grandmothers and even grandfathers (identified by our benign genetics work collecting fecal material) who are part of the community. We work with the dolphins in the water and use still photography, video, and advanced sound recording devices to document the intimate details of the dolphin's underwater behavior. We record signature whistles, hunting sounds, and high-frequency ultrasonic vocalizations that only our equipment can capture. Please see our page describing our work on Dolphin Communication. We usually have a graduate student or two onboard, involved in their own research projects, which they are happy to share with you.
Because our focus is research, we only have five or six participants on any given trip to insure an intimate experience with research remaining the priority. Participants help daily with dolphin watches, assist in identifying dolphins from photographs and video, both in the water and during the evening reviews, and have access to some of the most experienced dolphin researchers in the world. In between dolphin work we snorkel on shipwrecks, fish for our dinner, or just observe the spectacular sunsets. We use only snorkel equipment during our work, and participants should be comfortable in the water and have some practice snorkeling. Please read A Typical Day on Stenella for more details.
Participants usually depart with the research crew from Florida on Tuesday mornings, cross the Gulf Stream to the Bahamas, and return to Florida 10 days later, debarking on a Thursday morning. Although we occasionally do shorter trips, we find that 10 days minimizes the interruptions of weather and other issues, insuring some time with the dolphins on each trip, since they are free-ranging animals.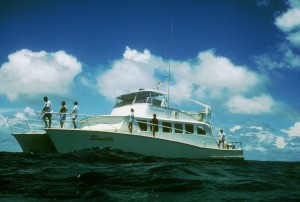 R/V Stenella is an open-ocean catamaran, ideal for anchoring in these shallow waters. She is a comfortable vessel, with an open living and dining area, two shared quarters, four bathrooms, and plenty of fresh and healthy food. Onboard we live family style, where everyone interacts and helps on a daily basis. Fresh water is made from the ocean using a reverse osmosis water maker. We recycle and try to minimize our impact on the ocean during our field season.
Our research vessel houses archival materials for you to review, including our ID catalogs of dolphin families, and multiple documentaries by BBC, Nature, and others that cover our work in the media.
We will be planning our 2013 season – our 29th – in the upcoming months, and look forward with great anticipation to the continuation of our work, studying and observing Atlantic spotted and bottlenose dolphins in the wild. The trips are now open for you to call and place a deposit to reserve your spot.  Please contact the Florida research office in order to secure your spot for the 2013 summer field season! To reach us by phone, call 561-575-5660. Please feel free to leave a voice mail if we are not in the office when you call. Do not send us an application before speaking with us.  If any of the trips are full, you can call the field office to be placed on a waiting list. You may also send an email to fieldwork@wilddolphinproject.org . This e-mail address is being protected from spam bots, you need JavaScript enabled to view it.
TRIP SCHEDULE
Our 2013 Schedule and fee information for trips is posted below.  Call our office at 561-575-5660 to place a deposit to reserve your space today.  Space is limited on all trips and early booking is essential.  If any of the trips are full, you can call or email to be placed on a waiting list in case there is an opening.
Ten-day trips depart the Port of Palm Beach on Tuesdays and return on Thursdays of the following week. You also have the option to fly in to Freeport; please contact our office before booking your flights if you wish to do this.  The 2013 trip fee is $2,895 per person, and includes your meals and all on-board activities.  WDP must receive a deposit of $750 in order to reserve your spot.  Call our office at 561-575-5660 or email fieldwork@wilddolphinproject.org to reserve a spot and also before sending a check in the mail.  The application must be filled out completely and returned within 3 weeks of receiving in order to confirm your place on a trip. All trip fees must be received by WDP at least 90 days prior to your scheduled departure, or upon booking if your departure is less than 90 days from the date you make your reservation.
There is always a possibility of a cancellation on one of our trips, in which case we start contacting people on the waiting lists in order to fill the spots.  If the trip that you would like to participate in is full, we can put you on a waiting list. Please call 561-575-5660 with your full name, phone number, email, and the specific dates that you would like to participate on for those trips.  You can also email us with this information at fieldwork@wilddolphinproject.org. 
You can also visit our Trip FAQ's page for some common questions that people ask about our summer trips.  Thank you for your interest in our trips.
2013 Trip Schedule
| | | |
| --- | --- | --- |
| TRIP # | AVAILABLE DATES | DAYS |
| TRIP 1 | MAY 14 – 23 | TUES-THUR (Closed/Waiting List) |
| TRIP 2 | MAY 28 – JUNE 6 | TUES-THUR (Closed/Waiting List) |
| TRIP 3 | JUNE 11 – 20 | TUES-THUR (Closed/Waiting List) |
| TRIP 4 | JUNE 25 – JULY 4 | TUES-THUR (Closed/Waiting List) |
| TRIP 5 | JULY 16 – 25 | TUES-THUR (Closed/Waiting List) |
| TRIP 6 | JULY 30 – AUG. 8 | TUES-THUR (Closed/Waiting List) |
| TRIP 7 | AUG 13 – 22 | TUES-THUR (Closed/Waiting List) |
| TRIP 8 | AUG 27 – SEPT 5 | TUES-THUR (Closed/Waiting List) |
| TRIP 9 | TBD | TUES-THUR |
There may be a possibility that some of the spots might open up later in the season.  That is why we have a waiting list for all of these trips.  Contact our office at 561-575-5660 or fieldwork@wilddolphinproject.org to be placed on a waiting list or if you have any questions/concerns.