SPOTTED DOLPHINS

LITTLE GASH
First Seen: 1986
Age class in '07: Fused
Mother: unknown
Frequent associates: Little Gash is typical of most females in the population. Her associations change with her reproductive status; she will associate more with other females in the same stage of life. For example, when she had her first calf, she associated highly with other females with calves. These females have the same needs, and can assist each other (babysitting, etc).
Identification marks: Little Gash has many ID marks. She has a slash on the leading edge of the dorsal fin, a deep gash on the peduncle near the fluke (or tail), a large notch near the center of her fluke, and on her right flank some spots have formed the shape of a heart. Her coloration is also a very distinctive Neapolitan. Little Gash always looks younger than she is because she does not gain as many spots as most dolphins her age do. All her offspring have also gained this type of spotting pattern.
Little Gash was first observed in 1986 as a speckled juvenile. At this age she was often found with others her age, often being tended to by other older juveniles or adults who act as babysitters. As she grew up, she in turn became a babysitter, learning how to take care of young calves, before giving birth to her first calf in 1993.
Little Gash was named for the slash in the leading edge of her dorsal fin, however over the years she has gained more prominent scars in her peduncle and fluke making her truly live up to her name: Little Gash. These types of gashes are not uncommon in our study population and are often caused by shark bites, fishing line entanglements, boat propellers and dolphin aggression.
Little Gash is a wonderful example of the wealth of information WDP can gain through our long-term research. We were able to follow her throughout her life, documenting life history characteristics, associations, and how they change over time. Little Gash is still an important individual in the population and our study, and we look forward to what we can still learn from her, and perhaps see another calf in the near future!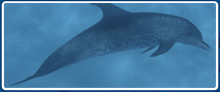 BRULEE
First Seen: 1996
Age class in '07: Mottled
Mother : Blotches
Frequent associates: Mohawk (male mottled), Finesse (male fused), Malibu (male speckled), and to a lesser degree: Neptune (male speckled), Kai (male specked).
Identification marks: Small nicks in trailing edge of dorsal fin, spots form the letter C on right flank.
Male individuals at this age often have strong relationships with other males close to the same age. Some pairs of individuals have very strong associations, called alliances, which can last a lifetime. Brulee has a few very good friends, Mohawk, Finesse and Malibu, all of which are close to the same age. Males like these tend to group together, called a coalition. These coalitions are often responsible for supervising, protecting, and defending the other dolphins including the females and calves. They are also involved in gaining access to females for courtship.
Brulee and his friends are establishing their place in the dolphin society, sometimes they challenge older males in aggressive encounters, or they herd/coerce females for courtship. This is an important time as these young adults reach full adulthood and the responsibilities that entails.
We have been able to watch Brulee grow up, from calf to young adult and document how friendships/alliances form over time and what their function is in the society. As we continue to observe him we will learn more about the male transition from young adult to adult as well as the formation, stability and consistency of alliances and what place Brulee takes in the society as an adult.
KAI
First Seen: 2000
Age class in '07: Speckled
Mother: Katy
Frequent associates: Sunami (male speckled), Linus (male speckled), Neptune (male speckled), Picasso (male speckled), and to a lesser degree: Malibu (male speckled) and Brulee (male mottled).
Identification marks: Small nicks in the trailing edge of the dorsal fin, spots in the shape of a pentagon on the left flank and dark colored stripe from eye to flipper.
As a young juvenile, Kai spends most of his time with individuals of the same age. These dolphins are learning the rules and behaviors of the society from each other and adults in the population. There are rules that must be understood, behaviors learned that are important like fighting, courtship and affiliative behaviors. Also, it is imperative to know which behaviors are appropriate at which times.
At this age both male and female juveniles may partake in babysitting behavior, learning how to take care of young offspring. In addition, this is in male alliances often begin. The friendships that are established now may continue through to adulthood and affect their behavior throughout their lifetime.
Kai and his friends are often seen in play fighting groups, where many times an adult will be instigating the youngsters in to mock fights, teaching them the behaviors and rules. They may also be seen trying to copulate with older females, learning the correct way to court a female. This is a time in the dolphins lives with lots of new learning experiences. Being able to watch Kai from the calf to juvenile stage we have learned a lot about juvenile behavior and how it develops from calf to juvenile. As we continue to watch Kai and his friends we will learn even more about alliance/coalition formation and other social associations and how they develop and are maintained.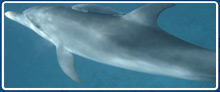 NOLDUS
First Seen: 2006
Age class in '07: Two-tone
Mother: Nassau
Frequent associates: Noldus and other two-tone calves spend almost all their time with their mothers. Occasionaly they will associate with other mothers or babysitters, while the mother forages on her own.
Identification marks: Small nick in lower trailing edge of dorsal fin, has a remora (a fish that sucks onto the dolphins skin) and scars from the remora on her right flank.
Calves like Noldus will associate highly with their mothers for the first few years of their life. They will nurse for 3-4 years. This happens many times a day, then decreases once they start eating fish in year 2. At this time the calves are observing their mother and others in the society, learning the necessary skills for survival, such as foraging, predator detection and social behaviors. There is also much play time as well, where mothers and calves are often seen together, letting the calves play together. Play is an important learning tool for young dolphins.
Being able to follow calves, like Noldus, from birth to adulthood is one of the greatest wealth of information in our research. We can study their development, for both males and females and research how it is affected by both environmental and societal variables. We look forward to following Noldus as she grows up, and learning all we can from her and others in the population.
BOTTLENOSE DOLPHINS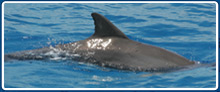 FRECKLES
First Seen: 1993
Age class in '07: Adult
Mother: Unknown
Frequent associates: Like other adult females Freckles associates with other females in the same stage of life. While pregnant, she stayed with other pregnant females, such as Natasha and Avalanche. When she had Frost in 2003, she was with other new mothers (some of which were the same pregnant females). Female associations are variable and change in conjunction with their reproductive status, though if a pair goes through changes at the same time, their association can be strong for longer than usual.
Identification marks: Ragged trailing edge of dorsal fin, and spots on her belly (which was the inspiration for her name)
Freckles is one of the longest tracked bottlenose dolphins that is still present in the population. She was an adult when we first saw her in 1993. We have been able to document a good deal of her adult life.
Bottlenose dolphins are more warey than their spotted friends, and do not tend to let us watch their behavior underwater. However some individuals, like Freckles, have become more comfortable and actually curious and let us observe them underwater.
We have found that adult females change association corresponding with their reproductive status. They can have some strong associations, however most are moderate, and not consistent over long periods of time. Male adults, however, form alliances, which are pairs of individuals with strong associations that can last for many, many years.
Through females like Freckles, we have been able to document adult female life histories including reproductive characteristics and their associations. We have also learned a lot about adult males, their alliances and associations. We look forward to learning more from them and their behavior as they become more comfortable with us in the water.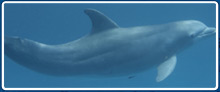 NIGHTMARE
First Seen: 2003
Age class in '07: Juvenile
Mother: Natasha
Frequent associates: As a juvenile Nightmare associates with other juveniles, learning from them and other adults how to survive and the rules of the society. Nightmare is often seen with Fezzik and Koi, both juvenile males. His is occasionally seen with his mother, Natasha.
Identification marks: Small nick on leading edge of dorsal fin at the tip, small nicks on trailing edge of dorsal fin, and two larger notches near the base. In 2007 he gained a new mark, a large gash in his peduncle near the fluke (much like Little Gash). He also has dark marks on both sides of his flank, where the color turns from darker to lighter grey on the belly.
Around 3-4 years of age is when a bottlenose dolphin becomes a juvenile. At this point they begin to associate with other juveniles more, and their mother less. Though he is still seen with his mother occasionally, Nightmare is doing what a typical juvenile male would, hanging out with other juvenile males, both playing and learning the skills they will need as they grow up. Female juveniles will associate more with other young females, however they will often continue to associate with their mothers as well; helping baby-sit a new calf, learning the skills they will need to take care of their own calves later in life.
Nightmare is the son of a friendly dolphin named Natasha. He followed in his mothers fluke steps and is very comfortable with us in the water. This is a great opportunity for us to watch juvenile male bottlenose behavior underwater, and document his associations with other individuals for years. We can learn a lot about juvenile development of behavior, associations and alliance formation with dolphins like Nightmare. Perhaps Nightmare, Fezzik and Koi will be friends for life. Only time will tell, and we look forward to being there to document and follow them for years to come.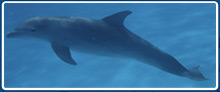 BELL
First Seen: 2005
Age class in '07: Calf
Mother: Beau
Frequent associates: As a typical calf will, Bell associates almost entirely with her mother for the first few years. Although her mother associates with other mothers, so Bell does interact with other calves and juveniles as well.
Identification marks: Small hump in the leading edge of the dorsal fin. Distinctive swirl marks on the left flank, where the coloration turns from darker to lighter grey at the belly.
Calves will spend the first 2-3 years of life in high association with their mother. This is the time they will be nursing (heavily for the fist year) and learning important survival skills, such as catching fish, from their mother, and their mothers associates. Calves like Bell can be very rambunctious, playing and getting into trouble. This is important in their development and they will learn a great deal from these play activities.
Soon Bell will become a juvenile and her associations will change. She is the daughter of another friendly female, and so our ability to watch her behavior underwater is greatly increased. We are just being able to start underwater monitoring of bottlenose calves from birth on. The amount of knowledge we can learn from watching their development between age classes will be great. Will Bell continue to associate with Beau, and learn about raising young? How do female relationships develop over time? These are just a few of the questions will be able to begin to answer as we document Bell and other calves grow up to adulthood. We look forward to hopefully seeing Bell's first calf some day!